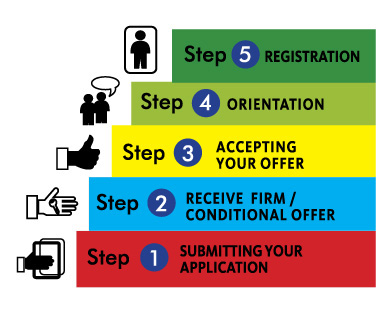 Step 1
In order to be considered for admission to a postgraduate programme in the Faculty of Humanities, you need to complete a formal UCT application  , available online rom April each year for the following year of study. The closing date for most programmes is 31 October; late applications could be considered where capacity allows for this.
The completed application form, together with supporting documentation (degree certificates, academic transcripts etc.) can be sent to the Admissions Office via email, courier or registered mail. For comprehensive guidance on UCT's Application procedures, please visit the UCT Admissions Office web page. Please note that if you are applying for a research degree - a PhD or Research Master's degree - your application must be accompanied by a research proposal.
Step 2
Once the application and supporting documentation have been received by the Admissions Office, your details will be captured and the application referred to the Humanities Faculty Office. Here the application and supporting documentation will be checked before being referred to the relevant department(s) for consideration.
Decisions to accept or refuse applicants are made by departments but will be conveyed to you by the Humanities Faculty Office. Alternatively, you can monitor the status of your application online. Do take into consideration that final results are required before departments can make decisions and in some instances, the decision will be deferred until your final results are supplied.
Step 3
This is an important step in the process as we need to know whether you will be accepting the offer to study in the Faculty, particularly in the case where you have been made more than one offer. Thus implying that although you submit one application, you are allowed to apply for two programmes and each one is evaluated independently. 
Steps 4 and 5
Once you have received and accepted a firm offer to study the degree programme of your choice, you will participate in the Faculty's Orientation and Registration process for postgraduate students. This takes place a few weeks before the start of the academic year.
Electronic application process, no form.