African Gender Institute: Overview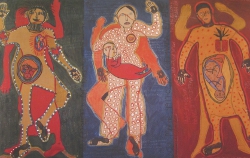 Gender Studies explores the power of gender dynamics within multiple fields of social relevance.
Research and scholarship about gender is often embedded within ideas about class, race and history, so working with a gender lens can illuminate knowledge in a new multi-faceted way. If, for example, most economists evaluate a country's wealth through measuring the value of what that country produces as goods, economists who take gender seriously will also explore the value of what gets created through productive labour, the work many women do taking care of children, the home space and the elderly. This approach changes the whole orientation to the study of economics.
Gender Studies is internationally recognised as a field which makes connections, opens doors and challenges familiar ideas. In African contexts, interest in Gender Studies is booming as a result of wide continental recognition that issues of masculinity, femininity/womanhood and sexuality a relevant to all our concerns about independence, freedom from conflict and the development of deep democracy.
Within the Faculty of Humanities, the Gender/Women's Studies courses offer the opportunity to explore the informal kaleidoscope of issues concerning gender, culture, and sexuality within a formal academic framework. Core courses include the following fields of study:
What does gender mean in Africa and elsewhere?
The impact of economic and political development on men and women
Feminist theories and women's movements in the context of global social movements
Doing research in the politics of gendered knowledge
Visit the African Gender Institute website.