South African College of Music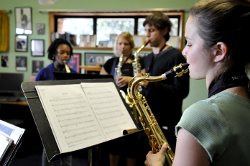 The University of Cape Town's, music department is known internationally as the South African College of Music (SACM) and is considered to be the leading music school in South Africa. It offers a diverse range of degrees and diplomas in disciplines including African Music, Composition, Jazz, Opera, Western Classical Music and World Music.
The SA College of Music staff includes some of our foremost internationally acclaimed performing artists, academics and composers. Our graduates continue to dominate the arenas of performance and academia. Some of our alumni include: Maria Jooste (who was a finalist at the prestigious Metropolitan Opera auditions in New York City in 2002): Pumeza Matshikiza (Opera singer in London), Salaelo Selota (jazz guitar), Jimmy Dludlu (jazz guitar), Melanie Scholtz (jazz vocalist); and François du Toit (concert pianist), to name a few.
Our diverse offerings are in the following areas:
Western Classical Music: The SA College of Music boasts one of the best student orchestras in South Africa with regular performances in the Baxter Concert Hall and at other venues throughout the Western Cape. The practical staff rank among the best performers nationally, and many enjoy prominent international careers. The quality of students and the teaching at the SACM is reflected in the dominance of our students as prize-winners at national and international competitions. In addition to performance studies, the SACM also has resident two of South Africa's best-known composers as well as prominent research staff in theoretical and historical musicology.
Opera: The opera studies programme is world-renowned and offers full operatic training in conjunction with Cape Town Opera which enables students to receive practical training while at the same time taking part in professional operatic performances, as well as in the Opera School's own productions at the Baxter and Artscape Theatres.
Jazz: The jazz studies programmes were introduced in 1989 and are now among the College of Music's most exciting offerings. The SACM's Big Band has performed to critical acclaim throughout South Africa, and most prominently at the annual National Arts Festival in Grahamstown. The jazz staff, all of whom are among the top jazz artists and composers in our country, teach academic and practical courses. They also present public concerts featuring their students, members of the local jazz community and themselves.
African Music: The programmes in African Music include teaching, performance and research. The SA College of Music is host to one of the largest existing collections of indigenous African Music instruments, namely the Kirby Collection. In 2003, the SACM was awarded a generous grant from the SA Lotteries Board to preserve and re-house this collection in a museum and research setting
Postgraduate students from the college fill numerous positions ranging from teaching, playing in bands, ensembles and/or orchestras, or acting as arts managers or managers of musicological archives. Some return as lecturers, sharing their knowledge with the next generation of students.
Visit the South African College of Music website.