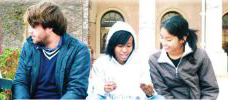 Everyone can and should study Anthropology! We believe that Anthropological approaches are crucial to Civic Consciousness.
By this we mean that knowledge of the diverse ways in which people inhabit the world and make sense of it can promote civic virtues and peaceable living, and generate both critical questions and generative responses to processing local and global concerns.
Anthropologists are useful to Prospective Employers because they are able to draw on comparative information about societies across the globe to challenge conventional wisdom and provide creative alternatives.
Graduates of Anthropology at UCT work in fields as diverse as:
Medical Research
Housing Policy
Journalism
Documentary Production
Drama
Psychology
Advertising
Tourism
Environmental Science
Industrial Relations
- and of course as Professional Anthropologists.