Antigone (not quite/quiet)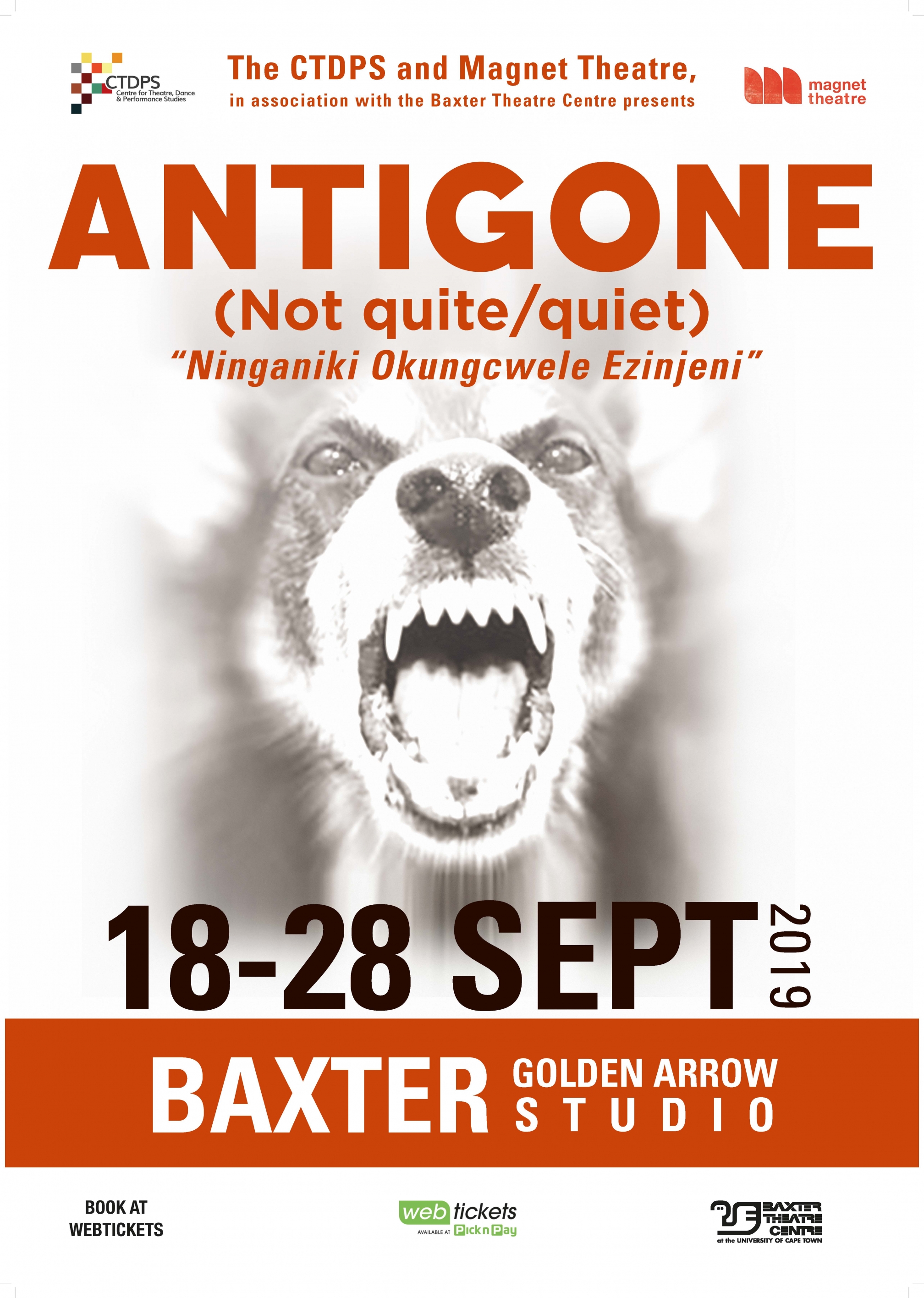 "Dreaming while black is a revolution delayed
Dreaming while black woman is a disappearing act"
Mandisa Vundla
From Antigone (not quite/quiet)
"Nanganiki Okungcwele Ezinjeni"
Antigone (not quite/quiet), directed by Mark Fleishman, delves into the concept of 'tragedy' at the Baxter, this September 
This hard-hitting work created by Magnet Theatre in collaboration with the CTDPS explores the nature of protest and responses to power, untangling the tragedy of our current moment in South Africa. Subtitled Nanganiki Okungcwele Ezinjeni which is isiXhosa for "Give not unto dogs sacred things", Antigone (not quite/quiet), is not a production of Antigone, but rather a series of responses to the original play. It engages with the concept of the aftermath: the tragedy of our particular aftermath in post-1994 South Africa. Created in 3 parts, it exposes the impossibility of escaping  our colonial history;  gives  voice to the  youth, in protest against the authority of the state that acts to silence them; and the complicity of the those in power in bringing us to this tragic point.
Created in collaboration with artists Neo Muyanga, Jennie Reznek, Faniswa Yisa, Craig Leo, Ina Wichterich and Mandisa Vundla  and a vibrant cast of young performers drawn from the CTDPS postgraduate cohort and trainees at Magnet Theatre, (recently seen in G7: Okwe-Bokhwe directed by Mandla Mbothwe), this production challenges the notions of what theatre is or might be. Heightened poetic text, vocal performance, song, physical imagery and new media combine to make this an exciting, challenging  and important evening in the theatre.
"Our anger in the only weapon we trust
And so we carry it like gun
One explosion at a time"
Mandisa Vundla
From Antigone (not quite/quiet)
Antigone (not quite/quiet) previews on 18 September, opens on 19 September and runs for a limited season, at the Baxter Golden Arrow Studio, until 28 September. Performances are at 7.30pm with Saturday matinees at 3pm. 
Ticket prices range from 100 to R150 and students and scholars pay R50 for matinees and R70 for evening performances.
Booking is through Webtickets or Pick n Pay stores. For discounted block or school bookings, contact Leon van Zyl on 021 680 3973, email leon.vanzyl@uct.ac.za or Nomsa Mbothwe at 021 448 3436, email nomsa@magnettheatre.co.za.
For further media enquiries or interview requests, contact Jessica Hewson on 021 6800 3863 or email jessica.hewson@uct.ac.za or Fahiem Stellenboom at fahiem.stellenboom@uct.ac.za  or call him on 021 680 3971.