A Talented artist she lived her dream
---
A year after they lost their daughter,  contemporary artist Carolyn Gill Gad to cancer, alumni David and Millicent Gad have bestowed a generous art prize to UCT's Michaelis School of Fine Art.
Carolyn Gad, who graduated cum laude from Cape Peninsula University of Technology (CPUT) in the field of textile design (later called surface design), had landed a two-year invited artist residency at the Institute of Molecular and Translational Medicine in the Czech Republic. She was tasked to bring science to the masses through art.
Her distinctively playful, whimsical art was perfectly suited to illustrating a book called Dedicated Fairy Tales, the proceeds of which went to cancer research in the Czech Republic. With its magical storybook-style illustrations, it was very well received and can still be seen on the Embassy of the Czech Republic's website.
Driven and inventive, Gad also illustrated the Institute director's talks, some of which were presented globally.  This was an astute move away from the staid bar chart and introduced delegates to the fantastical nature of her work and showed how the power of the imagination could enhance and simplify complex scientific themes.
Also a trained artist, her mother, Millicent Gad, studied what was then called commercial art (now called graphic design) at Michaelis under the late Neville Dubow – a director of the school in the 1970s and 1980s and founding director of UCT's Irma Stern Museum.  Mrs Gad worked in creative side of the advertising industry after graduating from UCT.
"Carolyn was a very driven person who had so many dreams about her career and future that we wanted to leave a legacy in her name to continue for many years," she said.
"We felt the prize should be shared, to give two people an opportunity of winning the prize. The top student in practical and the top student in theory."
Speaking with great fondness about her daughter, Mrs Gad recalled the early signs of Carolyn's fledgling talent.
"Carolyn was always drawing and, at nursery school, aged four, one of her illustrations was used on a T-shirt which every child was given to wear. Being an artist myself certainly must have inspired her!"
She treasures a small booklet her daughter wrote and illustrated, called Journey to Imagination. "It explains exactly how she felt and what inspired her. She was a very whimsical artist. Unfortunately she never managed to get it published," said Mrs Gad.
At CPUT, lecturer and mentor Julia Brewis saw Carolyn's potential and encouraged her to formulate her own style, and to follow her dreams. Brews also urged her not to be put off by technology, of which she was not a great fan. Carolyn preferred to create her art by hand, Mrs Gad reminisced.
Although the young artist's energetic, otherworldly canvases are a symphony of colour, the book she wrote and illustrated for her final exam at CPUT, which she titled The Story of Line, is in monochromatic black and white, demonstrating a flexibility in expression.  
"Her hard work paid off, but she also had some incredible luck along the way," said her mother.
The artist's mantra was to follow her dreams and seize every opportunity, just in case it never came around again. This determined and exuberant approach to both her life and work meant that Carolyn Gad's imaginative art  can be found in the Czech Republic, Germany, Poland, France  Slovakia, the United Kingdom, the United States, South Africa and Australia.
And so, although she died aged 37, she had achieved her dream of becoming an international artist. Tragically, an opportunity she was unable to take up was an invitation to exhibit her work at a Prague exhibition which attracted up to 7 000 tourists daily. This offer materialised just twenty minutes after she was told she had just three weeks to live.
A talented artist, she motivated her peers to find their creative voice and preserve their imagination. She coaxed art graduates not to be intimidated or discouraged by the enormous pool of talent they would face in the world of art.
"Someone may be better than you on a technical level, but there is only one you," she would say. "Nobody can express your story as creatively as you can, so go out there and tell your story."
Sadly, in late July 2018, this young and fearless artist was diagnosed with an extremely rare cancer called perivascular epithelioid cell neoplasm. She passed away on December 6, 2020.
"Her legacy is one of bravery and authenticity – being true to one's self and one's artistic style," said her mother.
It is in this egalitarian generosity of spirit and unanimity that Millicent and David Gad and have established the Carolyn Gad Memorial Art Prize in her memory; so that she may continue to inspire others to pursue their artistic visions.
The income on the R1-million donation will be used to award two annual prizes at Michaelis – the Carolyn Gad Memorial Prize for Studio Work and for Art Theory.
In her last labour of love for her beloved daughter, Mrs Gad created a heartachingly beautiful mosaic on the slab of her grave – a depiction of Carolyn's favourite artwork; a rosy-cheeked, winged fairy with compelling eyes and fantastical hair. Above the enchanting art that enrobes her grave are the words: 'A talented artist. She lived her dream'.
This article was authored by Chris Mitchell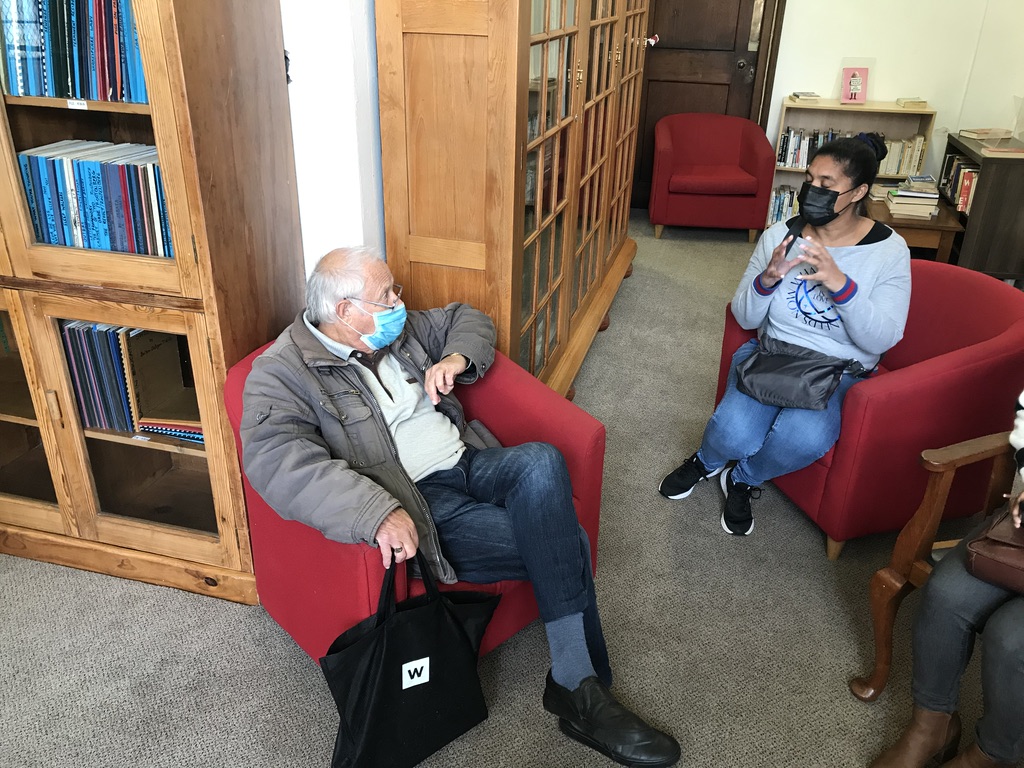 David Millicent in discussion with Melverna Joe from the Development and Alumni Department at UCT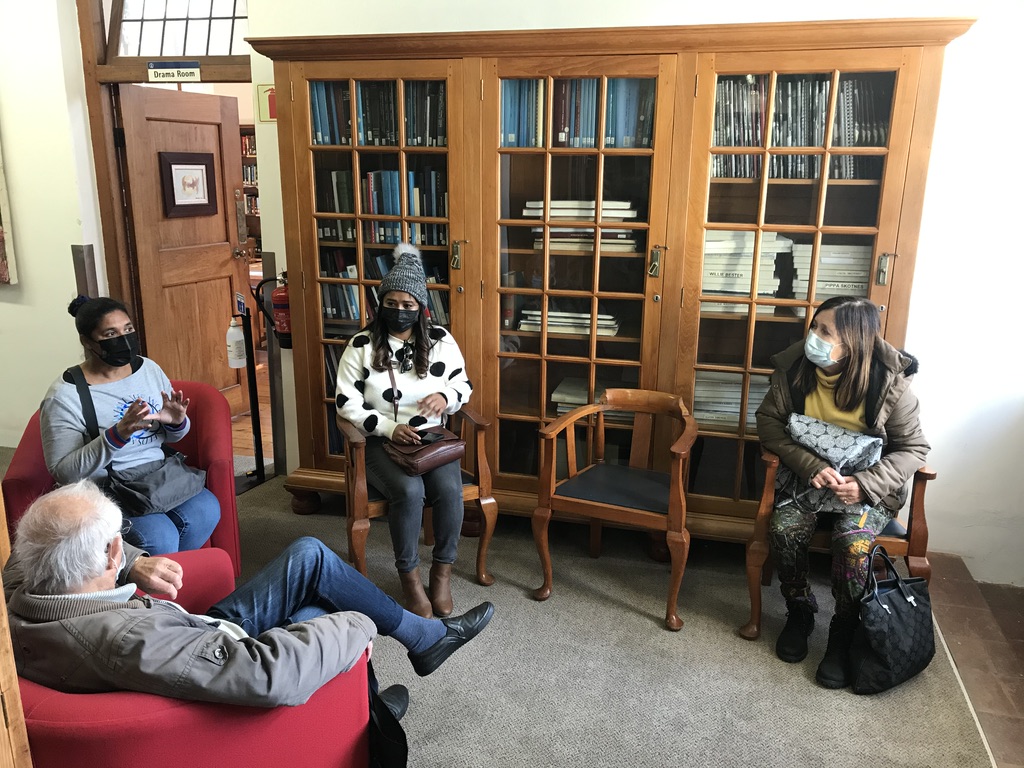 David and Millicent Gad in discussion with Nicole Draai and Melverna Joe from the Development and Alumni Department at UCT.