Fund the Performing and Creative Arts

Show your true colours. Support the artists of tomorrow
As the premier teaching and research institution in Africa, we recruit and nurture the very best. Among them, well-known opera stars, artists, dancers, film and theatre industry professionals of national and international standing. 
However, specialised training and mentorship are expensive to maintain. This is true across all Performing and Creative Arts disciplines. In order for us to continue to produce the best, we rely on the financial support of our donor community. We believe that UCT alumni have a pivotal role to play in ensuring the sustainability of the future Performing and Creative Arts talent pipeline. Scroll to the bottom of this page to find out how you can support the Performing and Creative Arts at UCT.
Why make a fundraising film?
We wanted a device that would reflect the full range of creative disciplines in the Humanities, a tool to articulate the funding need in a visceral and aesthetically pleasing way. So we searched for a production company that could deliver on this exciting challenge and more. Father and daughter team Clifford and Emma Bestall from Shadow Pictures were selected to oversee production on the new Performing and Creative Arts film. We asked them to share what the process of making the film was like:
My favourite thing about the film is the way that it incorporates so many voices across so many disciplines, and that the majority of these voices are young and fresh and so come from the heart of UCT's project to develop relevant and effective creatives, rather than from the top down - Emma Bestall. Film producer and UCT alumnus.
Watch the new film here:
The film concept: 
Production commenced in October 2015 with filming taking place at several locations in Cape Town and Johannesburg. We invaded artist's homes, their workplaces, their studios, theatre changing rooms and even a film set in Johannesburg. The goal was to develop a vibrant, thought-provoking narrative featuring former UCT Performing and Creative Art students who describe the ways in which a UCT education has and is currently benefiting their professional careers.
The interviewees:
Interviewees were identified on the basis of their career profile; their availability and for the ways in which they challenge convention and push the boundaries within their chosen fields. We approached individuals who are making a meaningful contribution to the Arts in South Africa and beyond. 
UCT Faculty of Humanities would like to thank the following alumni, staff and students who gave of their time to feature in this short fundraising film.  Although not all participants feature in the final cut of the film, we remain grateful to all who were interviewed for their willingness to help promote the cause.
A native of Port Elizabeth, South Africa, bass-baritone Musa Ngqungwana graduated with Honors in Performance (Magna Cum Laude) from UCT and is also a graduate of the prestigious Academy of Vocal Arts (AVA) in Philadelphia.He is the author of a memoir, "Odyssey of an African Opera Singer: From Zwide Township to the World Stage", which was published in 2014 and is available on Amazon and CreateSpace. He is represented worldwide by William Guerri at Columbia Artists (CAMI). In 2014, he was the  2014 winner of the Cesare Santeremo / Dr.Campbell Award from Opera Index in New York City, and a third prize winner of the Giulio Gari and Gerda Lissner International Vocal Competitions. In 2013, he was the Grand Finals Winner of the Metropolitan Opera National Council Auditions and was a recipient of the Lissner Charitable Award from the Licia Abanese / Puccini International Vocal Competition, and of the Apollo Music Trust. Other recognitions include the 2011 Oppenheimer Memorial Trust award and the 2010 winner of the WBHO / Jan Kaminski Award. Mr. Ngqungwana was a finalist in the 29th International Hans Gabor Belvedere Competition in Vienna, Austria, and in 2007 was the winner of the Schock Prize for Singing at the Baxter Theatre in Cape Town.He  makes his Dallas Opera debut in Eugene Onegin this year and also performs the role of Leporello in Don Giovanni at Florentine Opera.

Nombulelo Yende is a second- year Opera student at the South African College of Music, having first completed a foundation year. She won the Ruth Ormond prize as the best first-year in 2015 and appeared in Kaleidoscope of 2016 as one of the soloists. She has shared a stage with her sister Pretty Yende on quite a few occasions and has been a part of all the opera productions since starting her course. She also performed at Casa Labia in 2016 with Professor Franklin Larey.

Amy Jephta is a playwright and director. She obtained two degrees from the University of Cape Town: a Bachelor of Arts in Theatre and Performance in 2009 as well as a Masters of Arts in Theatre and Performance in 2013. Her research interests include dramaturgy, new play development, and ethnographic playwriting. She was the first national recipient of the Baxter Theatre/TAAC Emerging Theatre Director's Bursary and is an alumni of the Lincoln Center Theatre Directors Lab in New York.Amy has worked as a mentor to community theatre groups based in Kwazulu-Natal as part of the Twist Theatre project, has been part of the South African New Plays Writing Programme at Wits University, and has been a voice and acting lecturer at City Varsity in Cape Town and the Woodward School for Contemporary Art in Vancouver and an invited lecturer at CUNY, New York. As a playwright, her work has been published in South Africa, performed at the Riksteatern in Stockholm, at the Bush Theatre in London and at the Royal Court Theatre. She teaches Afrikaans bilingual acting and is a lecturer at UCT's Drama Department.

Born in Nigeria, Akin Omotoso moved with his family to South Africa in 1992 after his father, Professor Bankole Omotoso, accepted a lectureship at the University of the Western Cape. Akin Omotoso has been working in the South African film and television industry since the mid-1990s acting in the SABC3 soapie Isidingo and in the e-TV stitcom Big Okes. He has also featured in international films (Lord of War and Blood Diamond); produces TV shows (Jozi and Sorted); written and directed TV series such as A Place Called Home (for which he won Best Director at the South African Film and Television awards) as well as movies including his first directorial project, God Is African (2003) and the drama about xenophobia, Man on Ground, (2011). His latest movie Tell Me Sweet Something, is a romantic comedy set in Johannesburg. 

Akin Omotoso studied Drama at UCT where he won the Fluer du Cap for most promising student. He obtained  a Performer's Diploma in Speech and Drama from UCT in 1996 and was a Dean's Merit List. In addition, he won the Standard Bank Young Artist award in 2007.

Mikhael

Subotzky's film, video and photographic works are concerned with the structures of narrative and representation, as well as the relationship between social storytelling and the formal contingencies of image making. He was born in 1981 in Cape Town, South Africa, and is currently based in Johannesburg. His work has appeared in several group and solo exhibitions at galleries including the Museum of Modern Art (New York, 2008), Palais de Tokyo (Paris, 2013) Yale Art Gallery (New Haven, 2014) and Art Unlimited (Basel, 2014), Scottish National Portrait Gallery (Edinburgh, 2014), FoMU (Antwerp, 2014) and Le Bal (Paris, 2014), Liverpool (2012) and Lubumbashi (2013) Biennales, as well as the South African National Gallery (Cape Town, 2010). In 2015, he won the Deutsche Borse Photography Prize for his work Ponte City w in collaboration with Patrick Waterhouse. He was also a residency at the Musée MAC/VAL (Paris, 2013). His exhibition Retinal Shift was produced on the occasion of the Standard Bank Young Artist Award 2012 and toured South Africa's major museums.

Associate Professor Berni Searle lectures Videography at the Michaelis School of Fine Art. Searle works with lens-based media to stage narratives connected to history, memory and place. Often politically and socially engaged, her work also draws on emotions associated with vulnerability, loss and beauty. Her work was included in the 1997 Johannesburg Biennale, the 1998 Cairo Biennale, and the 2001 and 2005 Venice Biennales. Searle received a UNESCO award in 1998, the Minister of Culture prize at the Dak'art 2000 Biennale, and was nominated for the FNB VITA Art Award 2000 as well as the Daimler-Chrysler Award for South African Contemporary Art in 2000. In 2001, she was awarded a Civitella Ranieri Fellowship, was the Standard Bank Young Artist award recipient in 2003. She was shortlisted for the first Artes Mundi award in 2004.

Siwa Mgoboza was born 1993 in Cape Town and completed his BA Fine Art in 2015, he majored in Painting, at the Michaelis School of Fine Art, UCT. Having been raised abroad for most of his life, his work deals with the exploration of the globalized African sense of self, a Western upbringing and the subliminal space where these identities exist. His work examines the construction of identity and tangled relationship between Africa and the West and their respective histories. Mgoboza describes himself as a 'post post-colonial' hybrid, questioning the meaning of culture and national definitions.

Philip Miller studied music composition in South Africa with composers Jeanne Zaidel Rudolph and Peter Klatzow at UCT's College of Music. He completed his postgraduate studies in Electro-Acoustic music composition for film and television at Bournemouth University whilst continuing to study with UK composer Joseph Horovitz. He has worked with some of the most innovative filmmakers and visual artists to emerge from South Africa. He has composed music for the soundtracks to many local and international film and television productions including Steven Silver's The Bang Bang Club, Butterflies; HBO's The Girl directed by Julian Jarrold, Martha and Mary directed by Philip Noyce; and BBC's The Borrowers.

Miller has collaborated extensively with internationally acclaimed artist, William Kentridge on projects such as The Refusal of Time at the Tate Modern,Miller's choral work, Rewind: A cantata for voice, tape and testimony, based upon testimonies from the Truth and Reconciliation Commission had its US premiere in New York at the Celebrate Brooklyn Music Festival. In South Africa it has been performed at the Market Theatre, Johannesburg; Baxter Theatre in Cape Town and the Royal Festival Hall in London. Miller has also produced a number of albums including arrangements of traditional South African lullabies, The Thula Project, the soundtrack to both Black Box/ Chambre Noirand 9 Drawings for Projection by William Kentridge. Other works include Shona Malanga which is arrangements of freedom songs, and the soundtrack to White Lion. His latest CD soundtrack release is The Refusal of Time, which premiered in 2012 at Dokumenta13 in Germany and will be presented at the New York Museum of Metropolitan Art.

Lara Foot is the current Director and CEO of the Baxter Theatre Centre. She is a multi-award winning playwright, director and author. She completed her BA (Hons) degree at Johannesburg's Wits University in 1989 before attaining her Master's degree at UCT in 2007.Her passion is the development of new indigenous work, young writers and directors. She has directed over 40 professional productions, 29 of which have been new South African plays. She was the founder of the Barney Simon Young Directors and Writers Festivals, and has been integral in the development of more than 35 new South African plays, including Tshepang, Hear And Now, Reach and Karoo Moose which have all toured internationally with great success and they are published by Wits Press and Oberon books.

Lara has won many awards, including the Fleur du Cap Award for Outstanding Young Director (1992), National Vita Award (shared with Athol Fugard) for Best Director (1994), Standard Bank Young Artist of the Year Award (1995), Fleur du Cap Award for Best New South African Play forTshepang (2003), and the prestigious Golden Globe Best Short Film Award in 2006. In 2004 she was the winner in the Theatre category of the prestigious Rolex Mentor and Protégé Arts Initiative awards, and worked with the celebrated director Sir Peter Hall for a year.

Born in Gugulethu, Mamela Nyamza trained as a dancer at the ZAMA Dance School and later at the Pretoria Dance Technikon where she received a National Diploma in Ballet. Highly acclaimed and provocative choreographer Nyamza's work considers the engendered body, and the contemporary definition of dance, through her experimentation around themes of men and (mostly) women's roles and issues. In 1998 she received a scholarship to further her studies in dance at the ALVIN Ailey American Dance centre. After her graduation Mamela joined the State Theatre Dance Company where she performed nationally and internationally. Whilst appearing as a dancer in major international musicals, such as The Lion King, We Will Rock You and African Footprint, Mamela Nyamza simultaneously started to develop her own artistic practice, developing choreographies which deal with important political and social issues of today's South Africa.

Since 2006 she has dedicated her career to her own choreography which brought about autobiographical works such as Wena Mamela, Kutheni, Shift and Hatched. All of these works have been part of the Johannesburg's Dance Umbrella. HATCHED was also part of the Dance Umbrella in the UK at The Place in 2011. She has appeared at The Bates Dance Festival and in Slovenia, in Italy and Switzerland, running workshops and performances. In 2012, she directed a hip hop dance theatre - the fi rst of its kind in South Africa. Her work Okuya Phantsi Kwempumlo was awarded The Standard Bank Ovation Award at the National Arts Festival in 2012. Nyamza was awarded the Standard Bank Young Artist Award for Dance for 2011 and a GIPCA Fellowship in 2012.

Associate Professor Jay Pather is Director of the Institute for Creative Arts ICA (formerly GIPCA), Director of Siwela Sonke Dance Theatre, Committee Member for the National Arts Festival and Atistic Director of the Afrovibes Festival; Jay is a Durban- born cultural activist. He obtained an MA from New York University where he studied Dance Theatre as a Fulbright Scholar. He is founding artistic director of Siwela Sonke Dance Theatre established in 1996, and he has produced over fifty new works for this Durban- based company. Since 2006 he has been Associate Professor at the University of Cape Town's Drama Department.

Jay Pather is the recipient of the 2007 Tunkie Award for Leadership in South African Dance. He also received an award for Outstanding Contribution to Arts and Humanities from UKZN (2007) and a National Heritage Award in 2009. Other awards include the FNB Vita Award for Choreography and in February 2016 he was awarded the rank of Knight of the Order of Arts and Letters by the French Minister of Culture and Communication, in recognition of his significant contribution to the arts, literature, or the propagation of these fields.

Gerald Machona is a multi-disciplinary Visual Artist whose current work engages with issues of migration, social interaction and xenophobia in South Africa. His artistic practice spans a diverse range of mediums including sculpture, video, photography, performance and installation. After completing a Bachelor of Fine Art specialising in New Media at the University of Cape Town (2009), Machona received a scholarship from Rhodes University where he completed his Master's degree in Fine Art (2013) with a focus on sculpture. He is currently pursuing a PhD in Fine Art from UCT. 

Machona has participated in various group exhibitions including 'US II' curated by Bettina Malcomess and Simon Njami at the Iziko South African National Gallery. He was a recipient of a Mellon Foundation Scholarship and was a researcher for the Visual and Performing Arts of Africa research team. In 2011 he was selected as one of the top 10 emerging young African artists practicing in South Africa, in a publication by Business day South Africa for the Johannesburg Art Fair. His research interests are in the convergence of art, performance, culture and heritage in Africa and the experiences of the African-Diaspora.

Naledi is a third year student at the University of Cape Town where she is pursuing a Bachelor of Arts in Theatre and Performance. She received a Class Medal in 2015, has been on the Dean's Merit List for 2014 and 2015 and she is also Humanities Faculty Scholarship recipient.
I was last involved with UCT, particularly Michaelis, as a lecturer in the late 70's. UCT, and South Africa was obviously a very different place then and so to return to the campus almost 40 years later and experience what we had hoped for so many years ago, was heartwarming. Students now have a confidence that, to an outsider, suggests they have banished the ghosts of the past and now own the campus - Clifford Bestall. Documentary Film Producer and Director.
How UCT alumni can help:
We need you (our alumni) to assist UCT in maintaining and growing our standard of excellence in the Performing and Creative Arts.  Your generous donation can take the form of a once-off pledge or longer-term sponsorship that will assist with bursaries, specialized training and mentorship as well as the staging of productions, showcases and exhibitions.
Show your true colours. Support the artists of tomorrow.  Click here to pledge your support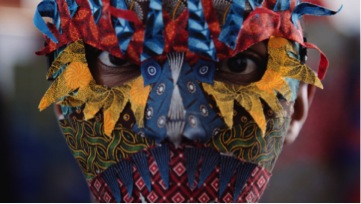 Image above: Siwaphiwe Mgoboza, 2015, 'Who Let the Beings Out?'. Photographic Series, Video Documentation Still. Mgoboza holds a BA in Fine Art from UCT (2015). Watch the film.
At the University of Cape Town, the Performing and Creative Arts cluster is comprised of the following: