Book Launch: Lauretta Ngcobo: Writing as the Practice of Freedom by Dr Barbara Boswell (Associate Professor)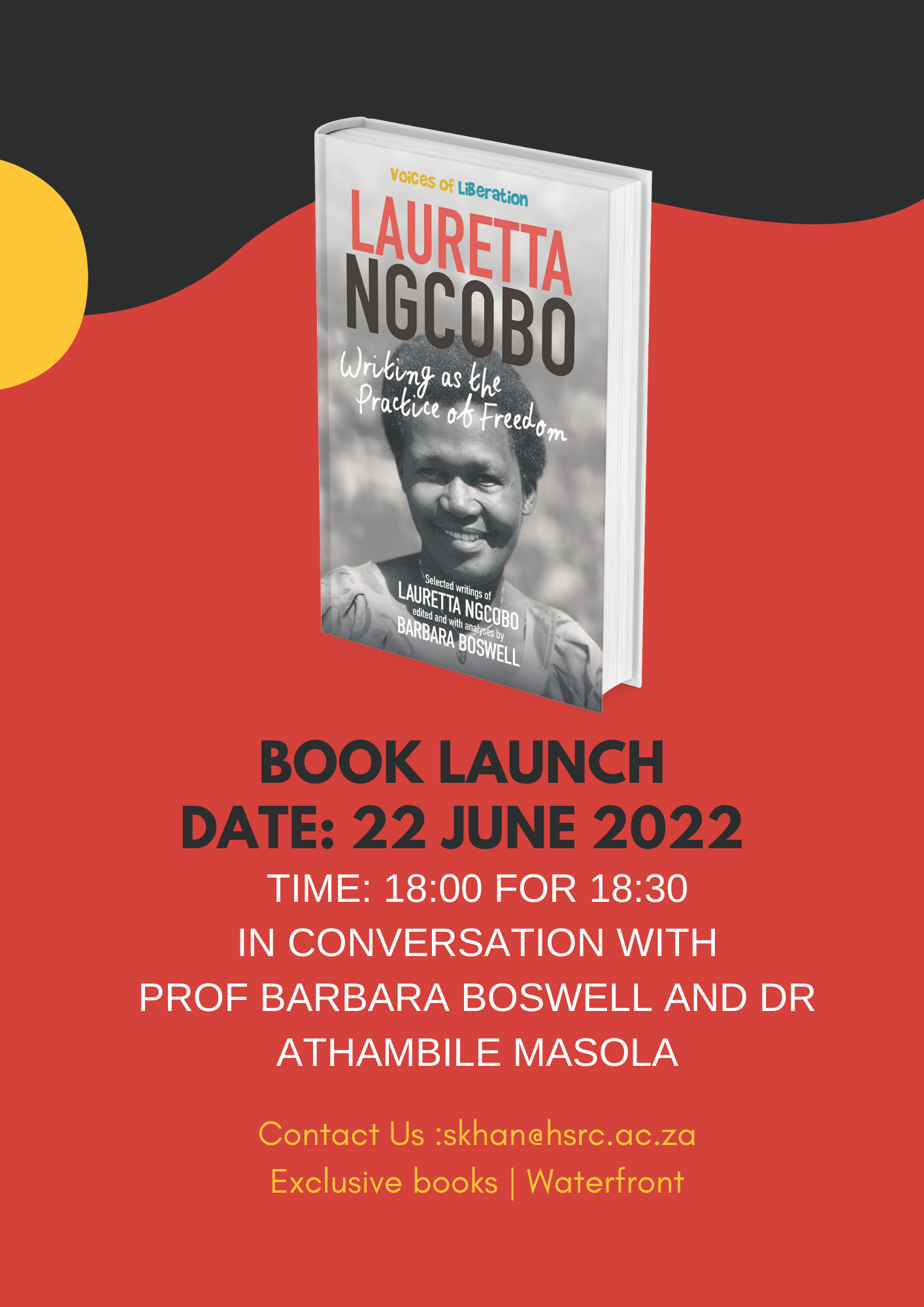 We are extremely proud and excited to share that Associate Professor Barbara Boswell, our Head of Department, will be launching her latest book this month. The launch for her latest publication titled, Lauretta Ngcobo: Writing as the Practice of Freedom, will be take place at Exclusive Books Waterfront. 
Date: Wednesday, 22 June 2022
Time: 18h00 for 18h30
For more information, contact skhan@hsrc.ac.za 
Book Synopsis
LAURETTA NGCOBO: WRITING AS THE PRACTICE OF FREEDOM, THE SELECTED WRITINGS OF LAURETTA NGCOBO, Edited and With Analysis by Barbara Boswell
Lauretta Ngcobo (1931-2015) is best known in South African letters for her novels "Cross of Gold" and "And They Didn't Die". Born in 1931 in Ixopo in the then Natal Province, Ngcobo was a pioneering black feminist writer – one of the first to publish novels in English from the particular vantage point of black women. Along with Bessie Head and Miriam Tlali, Ngcobo showed the world, through her fiction, what it was like to be black and a woman in apartheid South Africa.
In addition to publishing creative writing, she was also essayist, feminist literary critic, and literary historian who published numerous essays on gender in South Africa, what it meant to be a woman in exile, the transition from apartheid to democracy, and her life as a black woman writer. This edited collection publishes her key non-fiction collectively for the first time.
Lauretta Ngcobo: Writing as the Practice of Freedom, serves as a mapping of Ngcobo's life, as well as a compilation of some of her key writings. It is edited by Barbara Boswell, who curates selected excerpts of Ngcobo's most significant fiction and non-fiction. The book is part literary biography, part edited collection, with Boswell's framing and analysis of Ngcobo's life and literary works making up the book's first section. Its second section, "Her Voice", comprises a selection of Ngcobo's key essays, fiction and interviews. In part three, "Her Legacy", Boswell surveys what Ngcobo has bequeathed South African letters.