Carrol Clarkson
Departmental Associates
BA (Hons) Wits, DPhil York
Currently at the University of Amsterdam
Biography
Carrol Clarkson has published widely on aesthetics, legal theory, and South African literature and art. Her books include J.M. Coetzee: Countervoices (Palgrave 2009; 2nd edition 2013) and Drawing the Line: Toward an Aesthetics of Transitional Justice (Fordham University Press 2014). In 2009 she was the recipient of UCT's Distinguished Teacher's Award. She was Head of the Department of English Language and Literature from January 2009 to December 2013, and has also held positions at the University of the Witwatersrand, the University of Johannesburg, and the University of Stockholm. At present she holds a Chair in Modern English Literature at the University of Amsterdam.
Research Interests
Critical Theory, Literature and Art within a context of transitional justice
J.M. Coetzee and related theories and literatures
Publications
Books
J.M. Coetzee: Countervoices (Palgrave 2009; second edition 2013).
From the back cover of the second edition:
'In this highly original and thought-provoking study, Carrol Clarkson puts her expertise in linguistic theory and philosophy to excellent use. Her meticulous discussions of the nerves and sinews of Coetzee's writing undergird a subtle account of the ethical implications of his fiction, and encourage the reader to return to the novels with a new sense of their achievement.'
—Professor Derek Attridge, University of York, UK
'J.M. Coetzee: Countervoices emerges as a solid, interesting and apposite contribution to Coetzee criticism . . . Countervoices presents a novel approach to Coetzee's writing and opens up new and important perspectives on one of the world's most critically challenging authors.'
—Kjetil Enstad, Nordic Journal of English Studies
'Carrol Clarkson's J.M. Coetzee: Countervoices offers an erudite and very engaging discussion of J.M. Coetzee's writing.'
—This Year's Work in English Studies XVII
'Countervoices is essential reading in the burgeoning field of Coetzee studies.'
—Professor David Attwell, University of York
 
Drawing the Line: Toward an Aesthetics of Transitional Justice (Fordham University Press, 2014).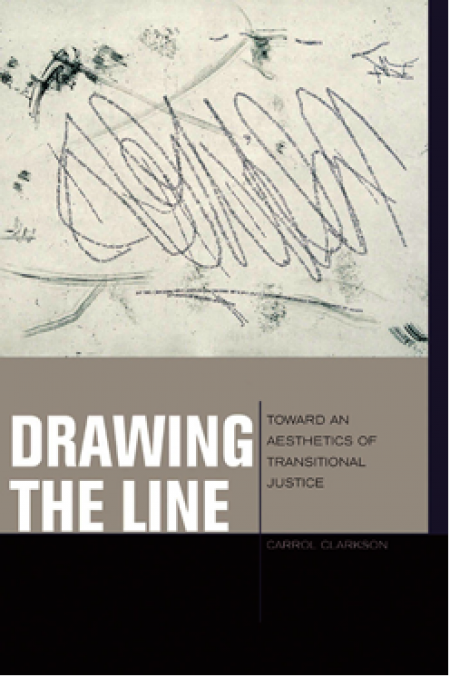 From the back cover:
"One rarely comes across work of such intelligence and imagination. This book is beautifully written and one finds oneself forever being caught out by wonderful and unpredicted connections, turns of phrase, the ease and acuity with which insights from disparate fields are brought together and developed."
-Emilios Christodoulidis, University of Glasgow
"What makes Clarkson's project truly dialogical--and what distinguishes it from a number of other analyses of contemporary South African culture and literature--is that she both reads South African culture in terms of theory but also examines and, indeed displays, what South African culture might also offer theory."
-Russell Samolsky, University of California, Santa Barbara
Selected Articles
Review essay on John Kannemeyer's J.M. Coetzee: 'n Geskryfde Lewe and J.M. Coetzee: A Life in Writing, trans. Michiel Heyns. Life Writing. Vol. 11 no. 2 (2014); published online 30 January 2014. http://dx.doi.org/10.1080/14484528.2014.878067
"Writing and Reading: Boundaries of Identity." Safundi. Vol. 14, no. 3 (July 2013), 263-267.
"J.M. Coetzee: Ethics, Politics and Writing." Review essay on Secretary of the Invisible: The Idea of Hospitality in the Fiction of J.M. Coetzee by Mike Marais, and J.M. Coetzee and the Novel: Writing and Politics After Beckett by Patrick Hayes. Novel: A Forum on Fiction 46.1 (2013): 147-152.
"Fences," Current Writing, special issue entitled "Law and South African Literature." Vol. 22 no. 2 (2010): 83-100.
"J.M. Coetzee and the Limits of Language."  Journal of Literary Studies. Vol. 25 no. 4 (December 2009): 121-139.
 "Ancient Antagonisms." English Academy Review. Vol. 25 no. 2 (2008): 101-110. Who are we? 'Don't make me laugh.' Law and Critique. vol. 18 no. 3 (2007): 361-374.

"Visible and Invisible: What Surfaces in Recent Johannesburg Novels?" Moving Worlds. vol. 5 no. 1 (2005): 84-97.
"'By Any Other Name:' Kripke, Derrida and an Ethics of Naming." The Journal of Literary Semantics. vol. 32 no. 1 (2003): 35-47.
"Dickens and the Cratylus." The British Journal of Aesthetics. vol. 39 no. 1 (January 1999): 53-61.
"Alias and Alienation in Bleak House: Identity in Language."  Dickens Studies Annual. 23 (1994): 121-135.
Selected Chapters in Books
"The Obliging Etymology of Nomos" in Reading Modern Law. Eds. Stewart Motha and Sundhya Pahudja. (London: Routledge, 2011).
 "Coetzee's Criticism" A Companion to the Works of J.M. Coetzee. Ed. Tim Mehigan (Rochester, New York: Camden House, 2011): 222-234. ISBN 978-1571135070
 "Locating Identity in Phaswane Mpe's Welcome to Our Hillbrow" in Connecting Cultures. Ed. Emma Bainbridge (London: Routledge 2008)
"Fever and AIDS: Teaching Bleak House in South Africa" in Approaches to Teaching Dickens's Bleak House. Ed. John O Jordon and Gordon Bigelow (New York: MLA, 2008) 149-156.
"Responses to Space and Spaces of Response in J.M. Coetzee." Austerities. Ed. Michael Neill. (Ashgate, 2010)

"Drawing the Line: Justice and the Art of Reconciliation." Justice and Reconciliation in Post-Apartheid South Africa. Eds. François du Bois and Antje du Bois-Pedain (Cambridge: Cambridge University Press, 2008): 267-288. ISBN 978-0-521-88205-7.

"The Time of Address" in Law and the Politics of Reconciliation. Ed. Scott Veitch (Aldershot: Ashgate, 2007): 229-240.