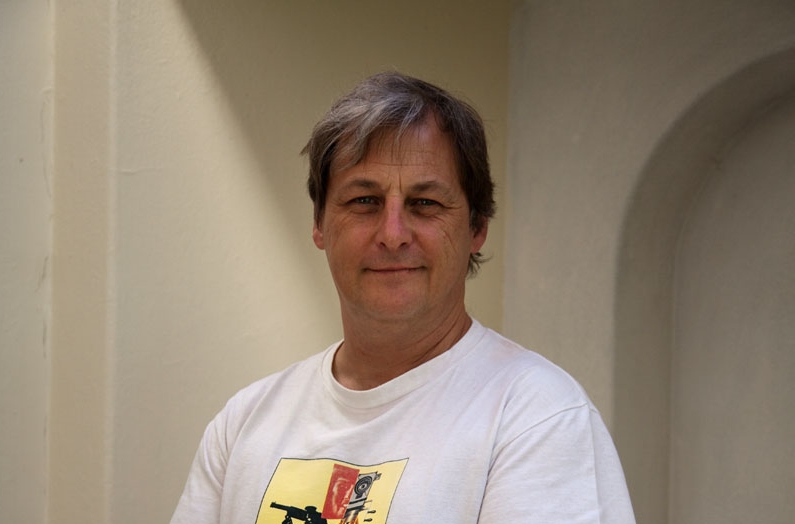 MA Cambridge, PhD Cape Town
Office: Arts Block 108
Email: john.higgins@uct.ac.za
Tel: +27 (0)21 650 3394
Biography
John Higgins holds the Arderne Chair in Literature, and has worked in the department since 1986. He grew up in Bradford in the north of England, and studied at a comprehensive school there before taking up a scholarship to attend Lycée Louis-le-Grand in Paris, where his main courses were in French literature and philosophy, followed by undergraduate and graduate studies at King's College, Cambridge, where he formally studied English literature, and informally film and theory through the Screen journal network. From 1980 to 1985, he was a junior lecturer in the English Department at the University of Geneva, where he also became the founder and director of the Cultural Studies Group. One of the first humanists to be awarded an A-rating by the National Research Foundation, he was elected a Fellow of UCT in 2003, a member of the Academy of Science of South Africa in 2009, and a Fellow of the Stellenbosch Institute of Advanced Study in 2011. He has also been honoured with the Cape Tercentenary Award of Excellence, the Altron National Book Award and the UCT Book Prize.
Research Interests
John Higgins's research interests have developed in and around his work on the major Welsh literary and cultural critic, Raymond Williams. They include – as well as an obvious focus on Williams himself – work in literary and cultural theory from Adorno to Zizek, with special interests in film theory, psychoanalysis and Marx and Marxism; topics in literary and cultural studies, with focal areas in modernism and avant-garde writing; and questions of academic freedom and higher education policy, both global and local.
Selected Publications
 Books
 2014 Academic Freedom in a Democratic South Africa: Essays and Interviews on Higher Education and the Humanities (Bucknell UP [Wits UP 2013])
2001 (editor) The Raymond Williams Reader (Oxford: Blackwell)
1999 Raymond Williams: literature, Marxism and cultural materialism (London and New York: Routledge)
Recent Articles and Book Chapters
 'Academic Freedom, Critique and the Humanities: some current challenges' in Critical Studies in Teaching and Learning 2015 (online journal)
 'The Constitutional Imperative for Academic Freedom in South Africa' in Europa World of Learning 2015 eds. Sally Varnham and Anthony Gladman (London and New York: Routledge 2014), pp. 34-38
'Rethinking Marx Rethinking the Public', Acta Academica 46:1 (2014) pp. 55-72
"Living out our differences": Interview with Jakes Gerwel', Thesis 11 (2013)115: 1, pp. 7—24;
'Rereading The Long Revolution': Permanent Education versus the Exclusionary Consensus' in Keywords: A Journal of Cultural Materialism (2012) 10: 11-27
'Resisting the Restoration' in Social Dynamics 38:1, (2012) pp. 26-35
"Even the dead will not be safe": On Dis(re)membering Williams' in On Raymond Williams, eds. Larry Grossberg, Roman Horak, and Monika Seidl (London and New York: Routledge 2010) pp. 117-128
'King's as College' in A Book of King's, ed. Karl Sabbagh, London: Third Millennium 2010
'On Representation: Citizenship and Critique in Marx and Said', in Re-imagining the Social: critique, theory and post-apartheid society, Eds. Peter Vale and Heather Jacklin (Durban: University of Kwazula-Natal Press 2009) pp. 177-215
Selected Recent Presentations
'Academic Freedom and the SA Constitution', 200/20 Years of the Constitution in Norway and South Africa, University of Johannesburg, November 2014
'Montage Theory' at Critical Historical Dictionary of Marxism Conference, Berlin June 2014
'The Country, the City and the Commune', MLA Special Session on Raymond Williams, Chicago January 2014
'"The First Philosophers were Astronomers": basic versus applied research in higher education policy', Celebrating African Astronomy, Cradle of Humankind, Maropeng 2011
'Conversations: Hume, Hitchcock and Coetzee', Stephen Copley Memorial Lecture, York University (UK) 2008.
Current Research Projects 
I continue research into Montage Theory and Modernism; a project tentatively entitled Marx@Marikana, with chapters on freedom of the press; the constitution; the idea of alienation; and Marikana itself; and a new project emerging on my work on academic freedom, asking how literature responds to the attack on education in the humanities, and engaging a comparative analysis of novels by Coetzee; Ian McEwan; and Ishiguro.
Areas of Postgraduate Supervision
Diverse Topics in Literary and Cultural Theory and Analysis, including:
(Current PhD) a comparative analysis of Badiou, Rancière and Zizek (Carlo Germeshuys)
My doctoral graduates and their topics include: Gabeba Baderoon Ambiguous visibility: Evolving representations of Islam in South African media and culture (recently published as Regarding Muslims: from slavery to post-apartheid (Wits UP 2014); M Crous The Abject in Marlene van Niekerk; Louise Green The Nature Industry: reflections on culture at the end of nature; Signe Hansen From Chef to Superstar (recently published as Signe Rousseau Food Media: Celebrity Chefs and the Politics of Everyday Interference (Berg: 2012) ; Clive Kronenberg Manifestations of humanism in Cuban history, politics and culture; Robert MacDonald Representing District 6; Kylie Thomas Between life and death: HIV and AIDS representation in South Africa (recently published as Impossible Mourning: HIV/AIDS and Visuality after Apartheid (Bucknell UP: 2014); and Mary Watson Surrealism and Cinema. ]
Keywords: film theory, psychoanalysis, Marxism, Modernism, academic freedom