'Of Smoke and Ash: The Jagger Library memorial exhibition'
The 'Of Smoke and Ash: The Jagger Library memorial exhibition', curated by Dr Duane Jethro and Jade Nair, is a collaborative project between UCT Libraries, the Centre for Curating the Archive and Michaelis Galleries. It opened on Tuesday, 19 April, a day from the one-year mark of the fire that spread across the mountain and into the Jagger Library. The exhibition memorialises the loss of the UCT Jagger Library building and its archives and celebrates UCT librarians and volunteers who participated in the salvage operations that followed. It features work by Michaelis alumni Sophie Cope (BAFA), Laurel Holmes (PGDip), Eugene van der Merwe (MFA) and Deborah Pryor (Honours Curatorship).
A digital speech by UCT's Vice Chancellor, Professor Mamokgethi Phakeng, opened proceedings, followed by Ujala Satgoor, executive director of UCT Libraries; Associate Professor Fritha Langerman, director of the Centre for Curating the Archive; Dr Kurt Campbell, director of the Michaelis School of Fine Art; and Jade Nair and Duane Jethro, co-curators of the exhibition.
On Monday, 25 April, the co-curators hosted Professor Mamokgethi Phakeng for an in-person walkabout of the exhibition which was well-received by the VC who wrote of it for PoliticsWeb  the next day, "I encourage you to visit it. The exhibition honours the process of the mind and heart that began with the fire on 18 April 2021, and the many people around the world who have walked this journey with us so far. It also marks a turning point for UCT Libraries because knowledge is never static. Even when the records of ancient knowledge have been destroyed, the memory of that knowledge holds us accountable. As an African institution of learning, we have a responsibility to that knowledge and to the world that is envisioned in that knowledge. This exhibition explores the questions posed by the fire, the salvage of the archives and the void of the burnt-out Jagger Library building."
'Of Smoke and Ash: The Jagger Library memorial exhibition' is currently on show at the Michaelis main gallery, open every weekday 10:00-15:00 until 13 May. For queries contact ccaexhibitions@uct.ac.za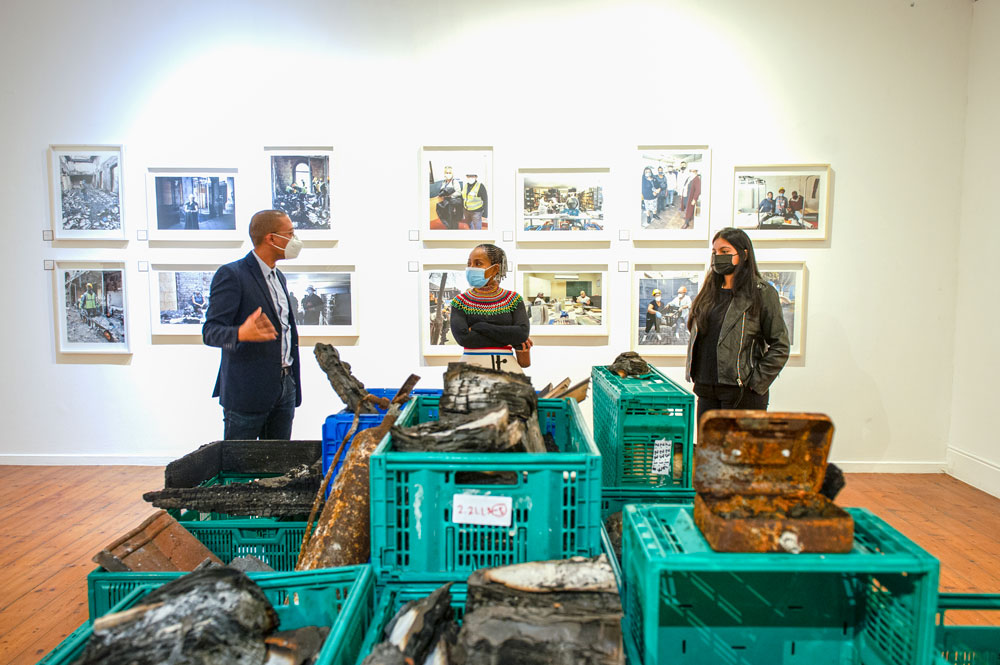 Photographic images courtesy of Lerato Maduna