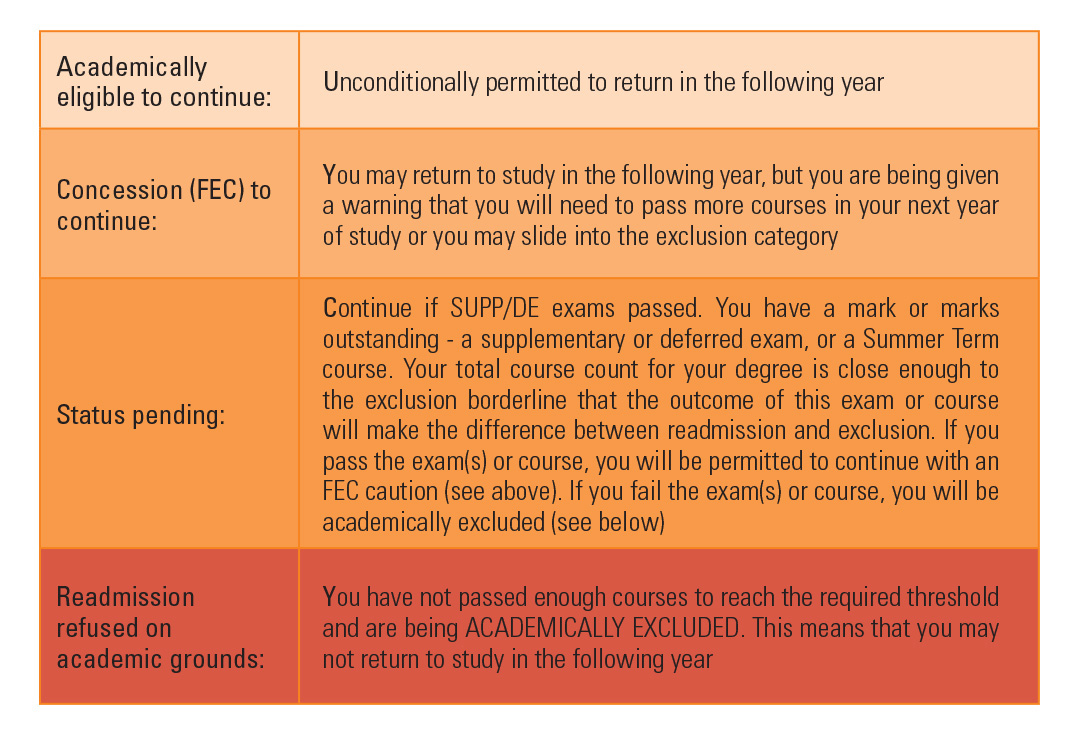 Academic exclusion is the process by which the university assesses the progress of a student towards the completion of their degree. At the end of every year, the courses you have passed in total (i.e. from the start of your degree) are counted up, and are compared with the faculty handbook outlining the requirements to be eligible to continue.  The requirements may differ for each degree of study, and need to be evaluated with the use of the relevant faculty handbook.   Normally the course count and evaluation is simple, however in certain instances there are specific requirements to be met, e.g. Fine Art has additional requirements, you must have passed specific courses in order to be allowed to continue.

Exclusion rules are liberal. For example, a general Bachelor of Arts (BA) or Bachelor of Social Science (BSocSc), requires you to have passed a minimum of three out of eight courses in your first year in order to be permitted to continue.  Exclusion rules are also designed with the interests of the student in mind:If you continuously struggle to meet the minimum requirements it would be unethical for us to allow you to pay for courses you cannot pass.

Rules for exclusion are laid out in the Faculty Handbooks (Handbook 9a for undergraduate students and 9b for postgraduate students). Ensure that you find the correct degree and read with careful thought and consideration.  As  The language in the handbook may be formal, however it is well structured to make sure you find the necessary information for each particular degree. 

 

Remember that you can only be excluded at the end of the year. The only time you will be excluded at mid-year is if you were excluded at the end of the previous year, re-admitted on appeal and have a semester of probation.

The Faculty runs a very time-consuming and detailed process of assessing student results after the end-of-year examinations. You will know about your status in two ways:

Your Peoplesoft unofficial transcript record will be updated to show a particular code for the end of the year. This could be:

Academically eligible to continue. You have passed enough courses that we are happy with your progress, and you may continue next year as normal.
Concession (FEC) to continue. You have been granted a concession to continue: you have passed just enough courses to be safe from exclusion, but we are a bit worried about your progress, and will send you a cautionary letter to warn you that you need to improve your performance or you may be in danger of exclusion in future years. (FEC is the Faculty Education Committee, which is the body which is effectively giving you permission to continue with a warning).
Status pending: continue if SUPP/DE exams passed. You have a mark or marks outstanding - a supplementary or deferred exam, or a Summer Term course. Your total course count for your degree is close enough to the exclusion borderline that the outcome of this exam or course will make the difference between readmission and exclusion. If you pass the exam(s) or course, you will be permitted to continue with an FEC caution (see above). If you fail the exam(s) or course, you will be academically excluded (see below). Students in the "Status Pending" category are expected to submit appeals against exclusion provisionally, in case the outstanding mark is a fail. If you pass your appeal form will be discarded as it will be unnecessary.
Readmission refused on academic grounds. You have failed to pass enough courses to reach the minimum required number, and we will not permit you to register next year.

If you have been excluded or have fallen into the FEC category above (i.e. you are readmitted, but with a caution, because you are only just above the minimum number of courses and we're a bit worried about your progress) you will receive a letter informing you of your status.

 

Firstly, DON'T PANIC! Exclusion does not mean it is the end of your academic career.  , There are various steps you can take to remedy the situation.

Consider the reasons that led you to the unfavourable outcome. Failure could be due to possible unfortunate events in your life, illness, depression or other difficult experiences outside the classroom. Under these circumstances, you are in a position to appeal your academic status. However, your failed courses may be because you are not finding your feet in university study: because the courses do not speak to you, or the way we expect you to learn and work does not ask you to use your strengths. University study is not the only way to become the qualified, competent, successful person you want to be. It may be that your abilities are more practical or creative than academic, and a different kind of learning may allow you to excel in a way that academic learning does not. Consider these possibilities; visit the Careers Office, and make an appointment with a guidance counsellor who can help you strategize to find the career, and the kind of further education, which best suits you and your goals.
See a student advisor. This is a sensible thing to do at any point in the year if you are worried you may be excluded at the end of the year, but are not sure if you have passed the relevant number of courses. For undergraduate students please find an advisor to assist you and for postgraduate students please consult with your supervisor, the Head of department(HOD) or Faculty of Humanities Postgraduate deputy dean. (You may search for relevant people by use of the UCT directory. They will be able to count up your courses, check whether you are in danger of exclusion, and advise you on strategies to pass as many courses as possible. They will also advise you about the UCT services which are available to help you overcome your problems,or other avenues of study if you strongly feel that UCT is not for you
Appeal against your exclusion. If you are excluded, you have the right to present evidence and a motivation to the relevant committee, arguing that there were special circumstances which make this exclusion unfair. The Readmission Appeals Committee (RAC) meets in January of every year, and considers the applications for re-admission of a large number of students. If you are excluded, you will be sent a copy of the appeal form, which is a well worded document. ; You may also find a copy on the UCT Readmissions site.

The rules for exclusion are laid out in the Faculty of Humanities Handbooks (9a for undergraduate students and 9b for postgraduate students) Different rules apply to different degrees, so make sure you check the right section.