'I'm going to Open that Door and Keep it Ajar'. The Political and Scholarly Legacy of AC Jordan.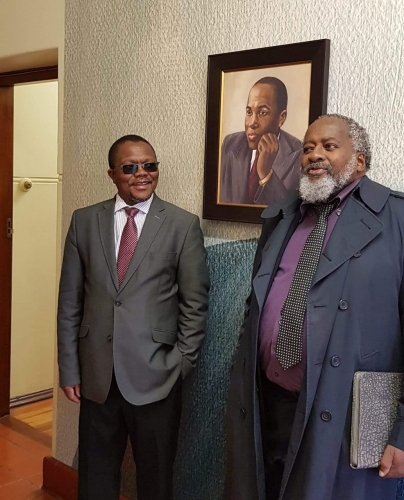 Professor Sakhela Buhlungu and Mr Pallo Jordan (A.C. Jordan's son) with A.C. Jordan in the background.
On 2 August 2019, the A.C. Jordan Chair in African Studies and the Linguistic Section of AXL held a day long symposium on the political and intellectual legacy of A.C. Jordan. This event was meant to take place in 2016 when the former Arts Block was renamed as the AC Jordan Building. However, the event could not take place due to students' political resistance against the lack of transformation at universities and the need for free education.
The main title of the symposium, ''I am going to open that door and keep it ajar', is a quote from A.C. Jordan when he accepted appointment at UCT in 1946. It speaks directly to the need for the transformation and decolonization of higher education.
A.C. Jordan worked in the African Languages Department from 1946 to 1962. However, the political situation under apartheid forced him into exile where he died in 1968. In 1993, UCT established the AC Jordan Chair in African Studies to provide a meaningful study of Africa. In 2004, UCT Council accepted a motivation to rename the Arts Block at the AC Jordan Building.
Funding for the symposium came from the AW Mellon Foundation.
Story:  Lungisile Ntsebeza