Intersecting Violences Exhibition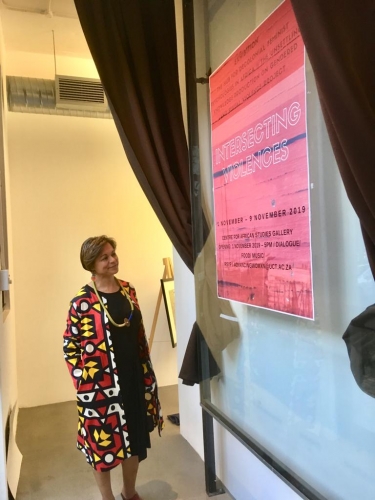 The Hub for Decolonial Feminist Psychologies in Africa and the Unsettling Knowledge Production on Gendered and Sexual Violence Project hosted an exhibition which centres on the work that has come out of multiple projects exploring different intersecting violences.  This exhibition brings together five years of participatory research engaged with different communities in capturing their negotiations of the varying terrains of violence. 
The Hub for Decolonial Feminist Psychologies in Africa and the Unsettling Knowledge Production on Gendered and Sexual Violence Project invited participants to an evening of dialogue and engagement with narratives, sound installation, and images which interrogate the ways in which violence intrudes into the social and domestic arenas of society – into the everyday, in homes, communities, schools, streets and institutions.
Acting Dean Associate Professor Shose Kessi welcomed everyone to the Photovoice exhibition and highlighted how teh question of violence and how it manifests in all aspects of our lives is a challenging and necessary question.  She commented, "Living in one of the most violence cities in teh world, we are frequently faced with the brutality through which people live on a daily basis and are too often the witnesses to lives that are destroyed and lost through violence.  It is therefore necessary that as scholars in this institution that we ask teh critical questions about why this violence occurs".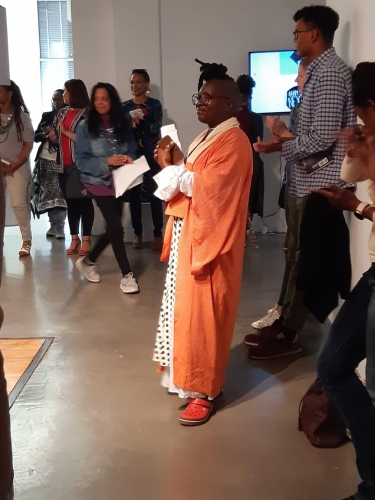 The following is an excerpt from A/Prof Kessi's speech:
It is through the pioneering work of scholars like Professor Floretta Boonzaier that we have come to understand how violence, in its various forms, has become an everyday phenomenon and one that affects all of us. Prof Boonzaier's work speaks mainly to issues of gender-based violence and intimate partner violence and in her more recent work investigates its historical traces in the afterlives of slavery. These are deep and critical reflections on how the past invades our present and how stories of conquest and resistance, nationhood, migration, displacement, unemployment, poverty, sexuality, womanhood, and racism become enmeshed in a complex web of daily lived realities and experiences that have a bearing on how we understand ourselves and the violences we inflict on each other. Her work also invites us to question what we mean by violence. We must think about violence beyond physical harm, to include the often less visible emotional, psychological and bodily experiences of trauma, exclusion, and alienation as well as the structural and representational oppressions that characterise our societies. Intersecting violences are an acknowledgment to the multiple identities and oppressions that exist in all their diversity.
I am particularly thrilled that today's event is showcasing the findings of Photovoice projects which have been sponsored and supervised by Prof Boonzaier's project in the past 5 years. For those of you who are not familiar with Photovoice methods, I am sure you will agree by the end of this evening that Photovoice is an innovative and powerful research method. Photovoice is usually used when conducting research with individuals and groups from marginalized contexts. It is a form of participatory action research in which the participants through the production of their own photographs and stories become the co-producers of knowledge. In that process, participants also build a consciousness of themselves and their environment which can lead to a heightened self-esteem and sense of empowerment. In my own experience of conducting photovoice research, participants have often told me that they never thought that anyone would be interested in their stories. Through the exhibition of their stories, participants also raise awareness and thus become agents of change in their communities. Photovoice therefore offers a critical tool for action and mobilization. It enables us to close the link between academia, activism, and real life. It is I would argue a form of decolonial practice.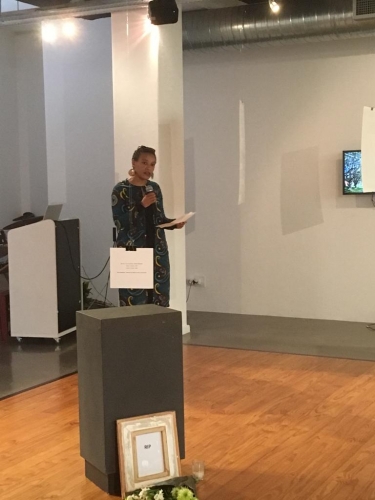 A/Prof Kessi thanked Professor Floretta Boonzaier and her collaborators and students for their hard work and commitment to the kind of work they do.  She said that researching violence is a difficult but necessary endeavour and that if we are to imagine a more peaceful society for generations to come, we need to understand how violence intersects and manifests in multiple forms across diverse lives and living conditions.