The Professor of Received Ideas: knowledge versus opinion in a time of climate change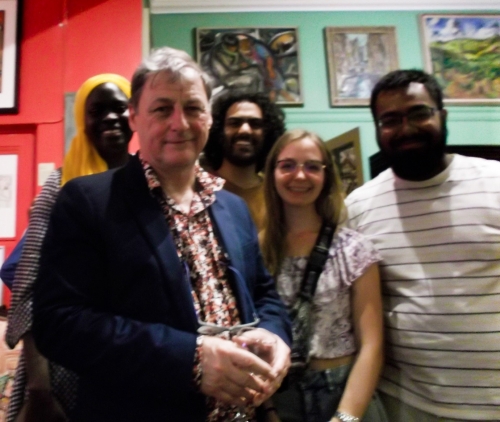 Left to Right: Mame-Diara Mbaye; John Higgins; Altay Turan; Cari Klipp; Imraan Kajee at the Irma Stern Museum.
A farewell event for Prof John Higgins, Arderne Chair of Literature, was held at the Irma Stern Museum.  With over a hundred colleagues, former students and friends present, Prof Higgins gave a lecture, 'The Professor of Received Ideas: knowledge versus opinion in a time of climate change'.  With his usual probing humour Higgins began his lecture by noting that he had hoped to claim the title of 'Professor of Received Ideas' on his promotion, but that, unfortunately, the rules had just changed to eliminate the possibility of professors claiming and describing their fields of study. 
Claiming that the single most important political problem of the day was the issue of climate change, the lecture ranged from the discussion of the framing of a photograph of Donald Trump and climate activist Greta Thornburg, to the reversal of the usual binary opposition between knowledge and opinion, through the issues raised by Flaubert's Dictionary of Received Ideas and into considerations of John Locke's ideas of politics and knowledge,  Higgins's final lecture embodied the virtues of his teaching as a whole. 
Students present at the event described the lecture as 'an embodiment of [John's] unique brand of knowledgeable and humorous delivery of complex ideas in a way that felt accessible to everyone in the room' (Liam Fieggen) and an 'illuminating discussion of the importance of a humanities' degree in today's world (Altay Turan). 
The lecture – in the beautiful setting of the Irma Stern – was preceded by a range of tributes and appreciations from former students and colleagues.  Clive Chandler (SLL) introduced the speakers and former registrar, Hugh Amoore, praised Higgins as a 'true scholar' and academic contributor to UCT; while other speakers -  Joan Hambidge (Afrikaans); Sandra Young and Peter Anderson (English); Ian Rijsdijk (Film and Media Studies); Signe Rousseau (Commerce); Zuleiga Adams (Extra-Mural Studies); Louise Green (Stellenbosch University) and André Wiesner (independent writer) - were all united in praising his contribution to their own academic formation,  Many dwelt on his particular skill of finding meaning in even the smallest and seemingly most insignificant detail of a text, and the ability to see in its real complexity 'a whole complex history'.  And all commented on both the unusual range and depth of his knowledge and interests, while appreciating the dry humour with which he laced his teaching and everyday interactions.
Recent students commented on 'John's ability to include every student and bring out the best in them' (Cari Klipp) while Imraan Kajee noted 'that no other seminar or lecturer had such an impact on the development of my critical ability. John showed us what being critical actually meant'. 
Everyone present wished Prof Higgins well on the new period he described, with characteristic irony, as his 'extended sabbatical'. 
The Professor of Received Ideas: Knowledge and Opinion in a Time of Climate Change.