Impossible Return: Harfield Village Forced Removals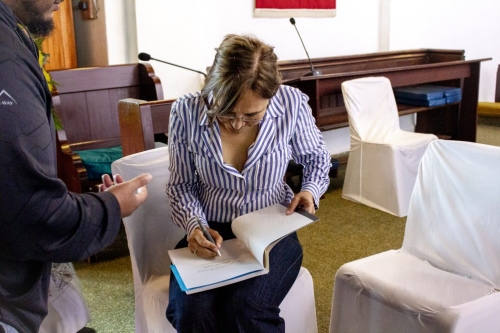 Professor Siona O'Connell signs a copy of her book, Impossible Return: Harfield Village Forced Removals.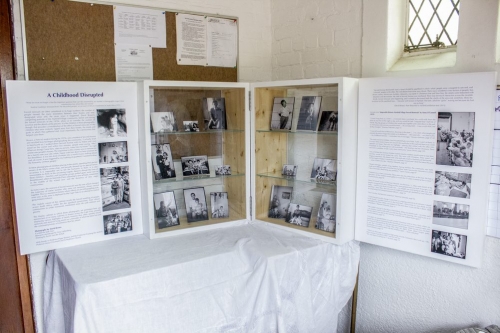 Impossible Return is a multi-faceted research project at the Centre for Curating the Archive focused on forced removals in the Harfield and Claremont areas. The project began with a collection of photographs by South African artist, David Brown, who, whilst a Fine Art student at Michaelis in the 1970s, photographed the Harfield community just before and during the apartheid-era forced removals. 
On Sunday, 20 October, "Impossible Return: Harfield Village Forced Removals", a book on the subject, authored by Professor Siona O'Connell, was launched at St Matthews church in Harfield Village and included A Childhood Disrupted, mobile exhibition by research curator, Jade Nair.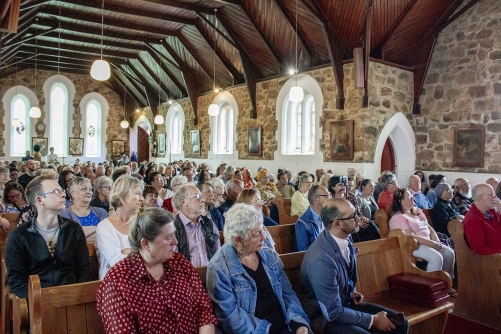 The book features Brown's photographs accompanied by narrative chapters detailing the experiences of forcibly removed families. The event was an opportunity for ex-residents to return to the area and reunite with each other in a site of historical importance for the community. St Matthews church has been an enduring site of return for ex-residents of the area, with many of its congregation returning each week from areas as far as Mitchells Plain and Manenberg. The event was opened with an interfaith blessing by Reverend Mzwabantu Magadla of St Matthews Church, Professor Peter Storey of the South African Methodist Church and, Mr Mohammed Maged, representing Harvey Street Mosque.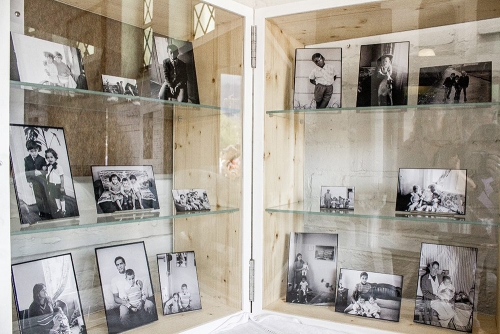 A panel discussion followed between Professor Siona O'Connell (who started the project as a colleague at the CCA but is now an associate at Pretoria), Professor Pippa Skotnes, (Director of CCA) Professor Murray Leibbrandt and Mary Burton which focused on the origins of the book, the gaps and omissions left in the wake of the TRC with regards to forced removals and how the book addresses the different faces of poverty traps in South Africa.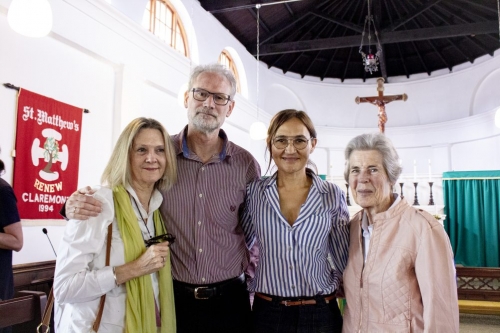 (L-R) Panelists: Professor Pippa Skotnes, Professor Murray Leibbrandt, Professor Siona O'Connell and Mary Burton
A Childhood Disrupted, the mobile exhibition curated by Jade Nair, focused on the children in Brown's photographs and considered the intergenerational effects of childhood trauma, as caused by forced removals. CCA PhD candidate, Nina Liebenberg, assisted with research and exhibition design and technical officer, Fazlin Schyff, provided exhibition assistance.