Diagnosing Loss in the Michaelis Upper Gallery
'Diagnosing Loss' is an exhibition that attempts to understand, navigate, measure, figure, calculate, and represent what we understand as loss. It takes, as its point of departure, the research conducted by social scientist Halina Suwalowska (Ethox Centre, Wellcome Centre for Ethics and Humanities, GLIDE Collaborative, University of Oxford) and artist Anna Suwalowska (Royal College of Art). The paintings featured in the exhibition (from their show 'Beyond the Body') examine the procedure of the autopsy as a last act of trying to understand the loss of life, and they grapple with how scientific and ethical standards on this procedure have changed over time and the dilemmas it poses to different cultures. 'Diagnosing Loss' extends these ideas by bringing together several artworks from Michaelis School of Fine Art staff, students, and graduates, along with objects sourced from the university's Physics, Pathology, Mathematics, Chemistry, Special Collections, Anatomy, and Biological Sciences Departments. These artworks and objects convey the different ways disciplines study and represent, but ultimately fail, at diagnosing loss.
Curated by Nina Liebenberg.
Featured artists:
Hope Gangata | Daya Reddy | Fritha Langerman | Ziyaad Small | Blake Leppan | Jessie Allot | Thaakira Salie | Carola Friess | Seth Kriger | Anna Suwalowska | Pippa Skotnes | Voni Baloyi | Katlego Diseko | Gabriel Baard | Khumo Magano | Caroline Powrie | Lynne Lomofsky | Nathalie Viruly | Ruby Wilson | Samuel Jordan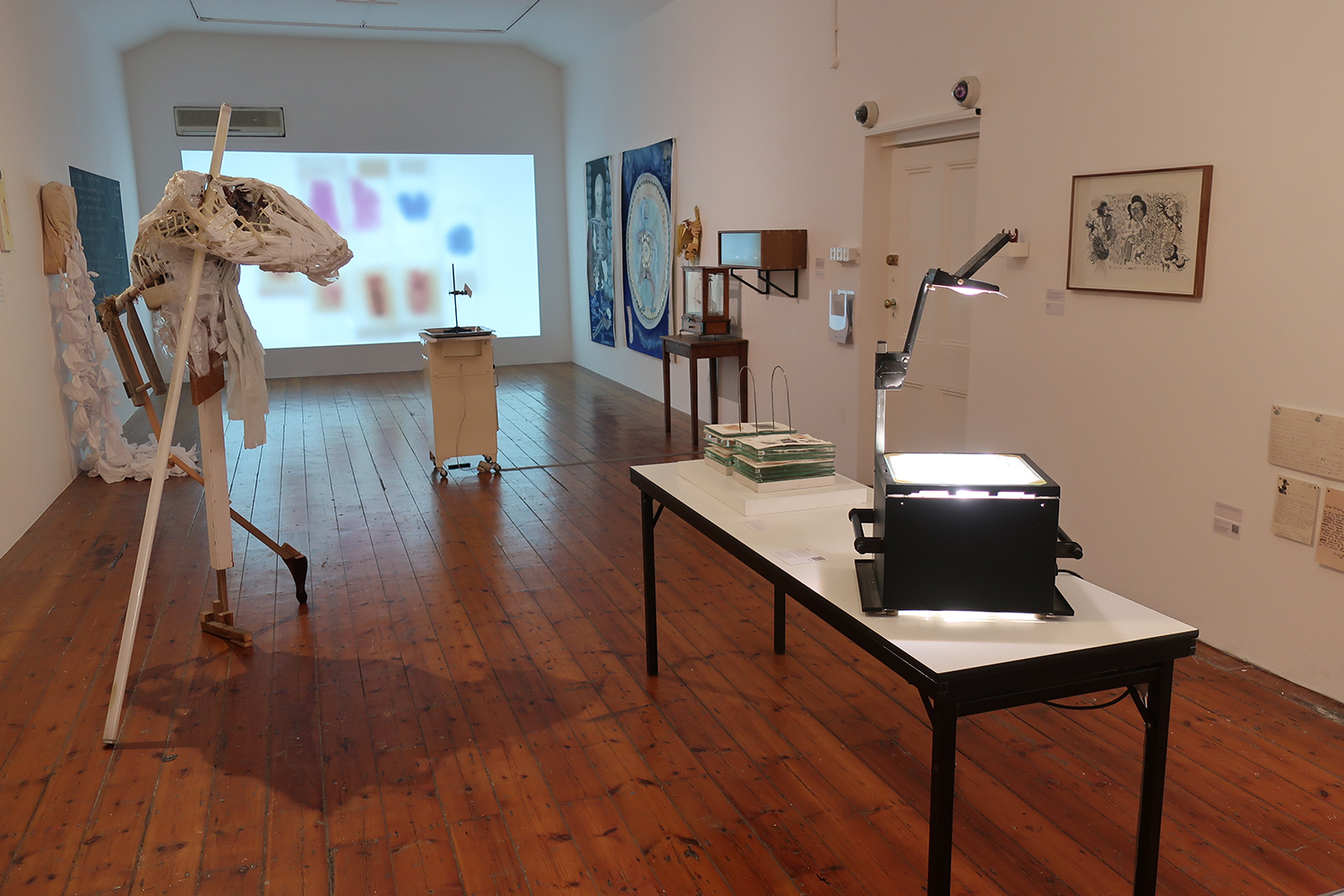 Diagnosing Loss. 2022. Installation view.
Diagnosing Loss. 2022. Installation view.
Dr Hope Gangata. 2004. The Paper Cadaver Project
BSc Honours in Human Anatomy and Physiotherapy student Hope Gangata conceptualised and produced this project in 2004. Made from hard paper, string and staples, with the exception of highlighters, pens and stick-on tags, the model assumes the body of a five-year old boy and can be used for teaching and for exam purposes across a continent where anatomical visual aids are either too expensive or sometimes hard to source. Accompanying this display are the files containing the blueprints for each component of this model, which can be printed out and assembled anywhere in the world.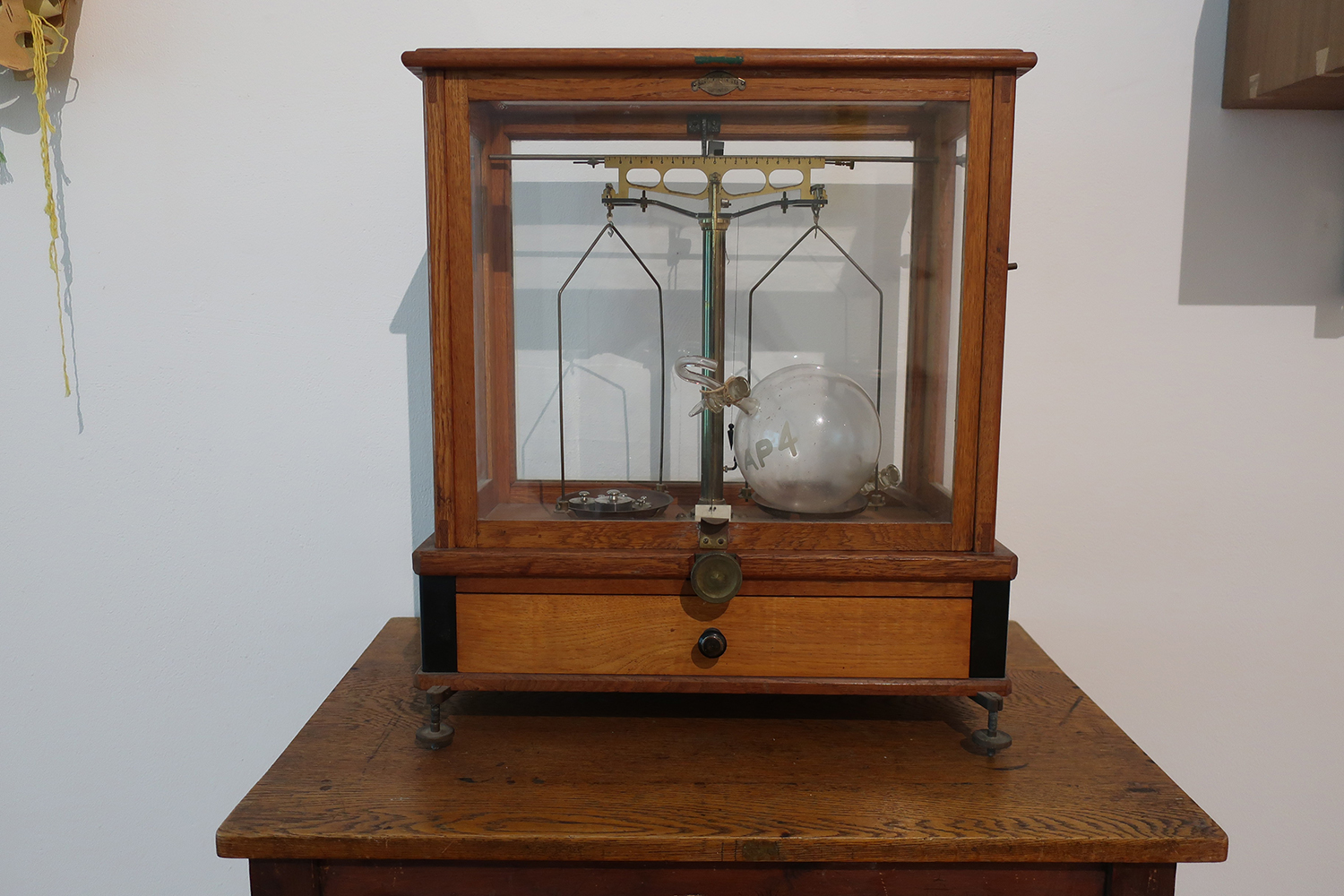 Weighing Air (Class must keep quiet). 2022. UCT Physics Department
An educational demonstration model from UCT Physics Department. Its description: "A spherical flask of about 1 litre is suspended from one arm of a crude chemical balance. It is counterpoised by weights in the other pan, the tap attached to the sphere being open. This gives (roughly) the true weight of the glass. Unhook the sphere from the stirrup, attach the rubber tube from a rotary vacuum pump to the glass tube and evacuate for around 30s. Close tap, and re-attach stirrup. There will now be an upthrust on the flask equal to the weight of air removed, and the weights in the other pan will have to be reduced by about 1.2 g to restore the balance. Open the tap again: the air can be heard rushing into the flask (class must keep quiet), and the flask suddenly descends again".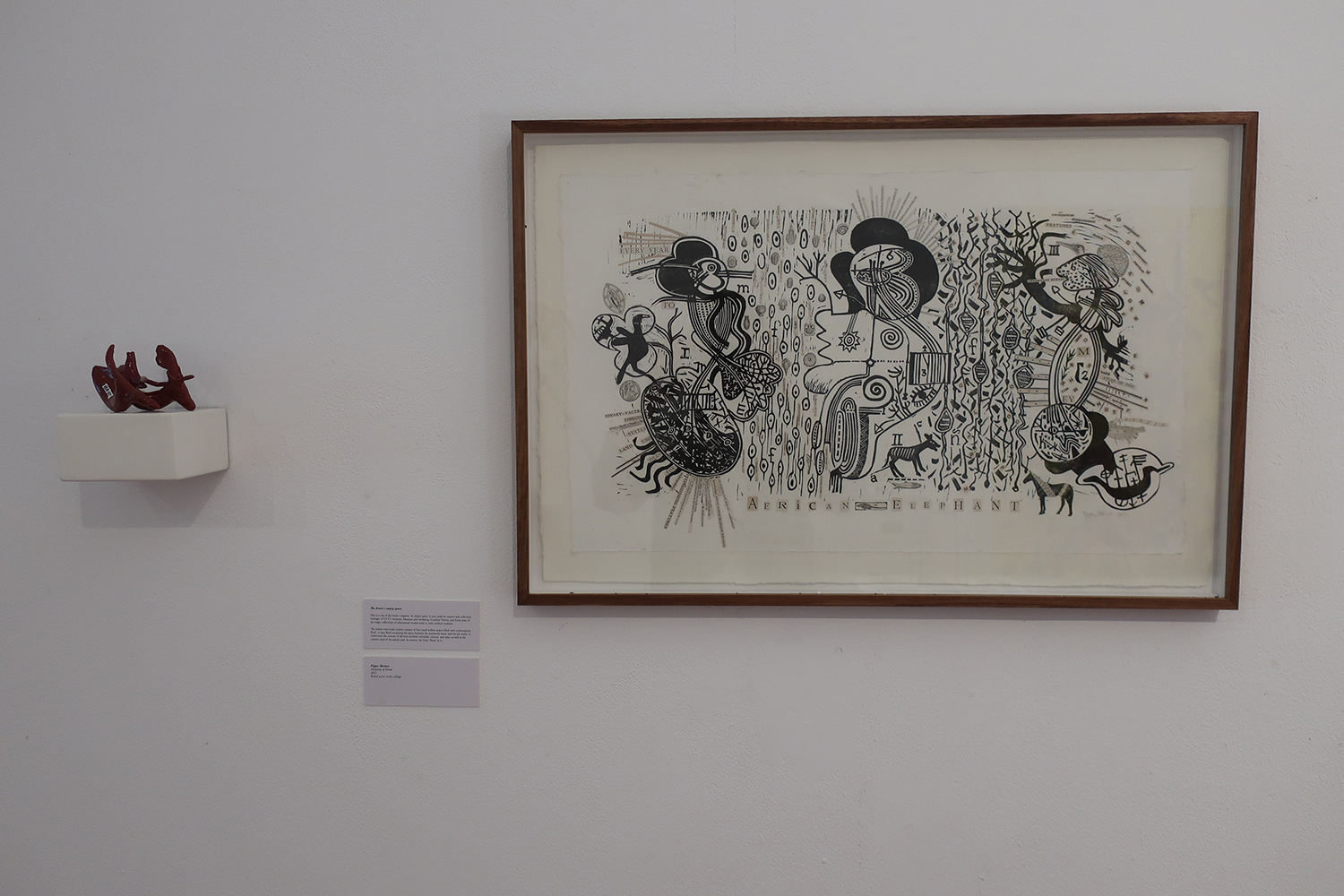 Pippa Skotnes. 2021. Anatomy of Mind. Relief print with collage
& 
A cast of the brain's negative. Its empty space. It was made by curator and collection manager of UCT's Anatomy Museum and workshop, Caroline Powrie, and forms part of the larger collections of educational models used to train medical students. The brain's ventricular system consists of four small hollow spaces filled with cerebrospinal fluid - a clear fluid occupying the space between the arachnoid mater and the pia mater. It constitutes the content of all intra-cerebral ventricles, cisterns, and sulci, as well as the central canal of the spinal cord. In essence, the brain 'floats' in it.
Refiguring bodies of thought. 2022
A curation by the Honours in Curatorship class of 2022 (Seth Kriger, Samuel Jordan, Voni Baloyi, Katlego Diseko, Gabriel Baard, Khumo Magano) using an educational anatomical bust as a prompt to think about everything except anatomy. Compiled along one string and draped over the bust, these associations create new relationships between the words and the object, as well as the different associative trajectories of each curator.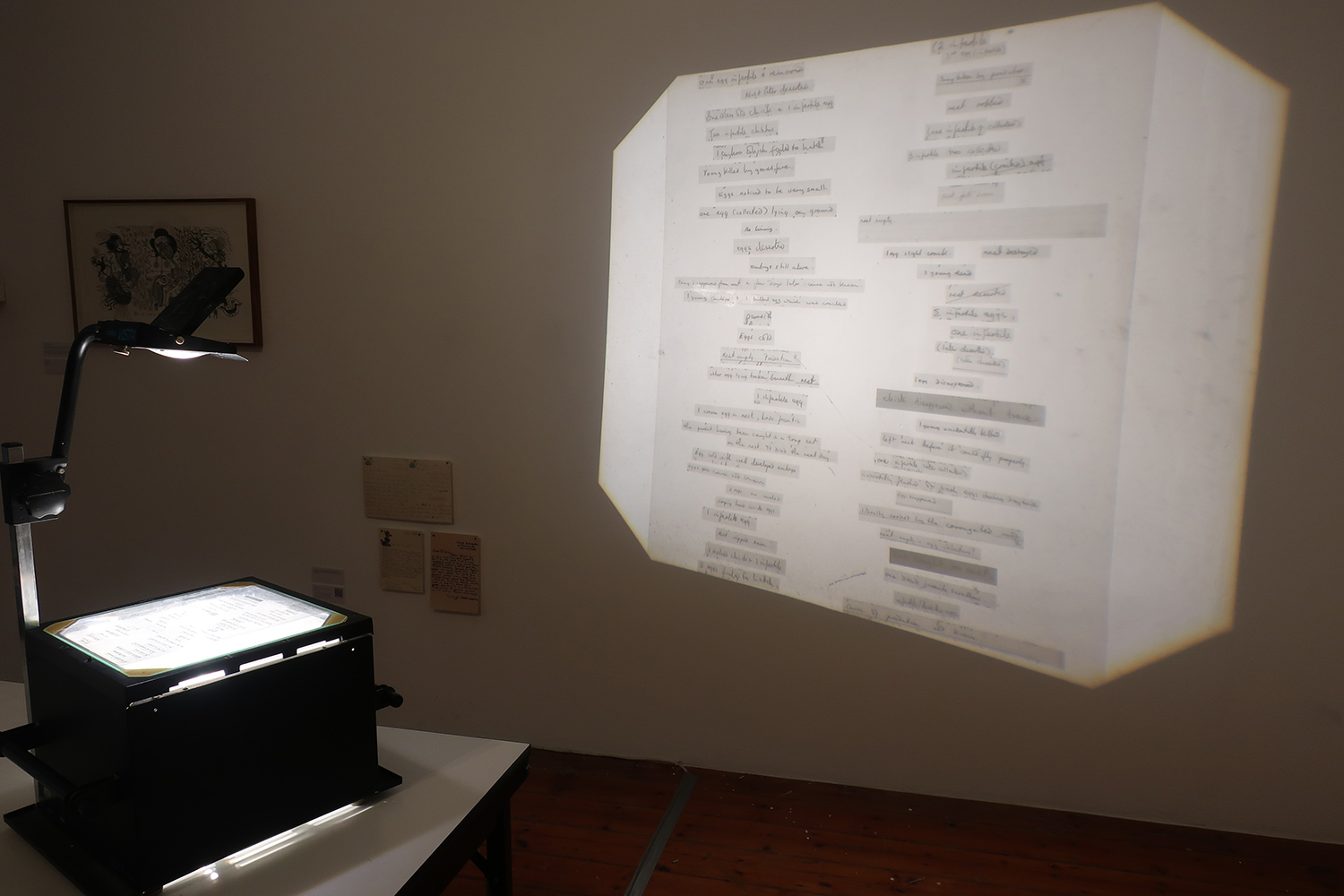 Nathalie Viruly. 2019. An oologist on grief
These lines are excerpts from individual entries in Notebook 2 - Nest Records. This notebook forms part of the Peter Steyn Collection of Eggs at the Department of Biological Sciences, UCT. These labelled and blown eggs were collected between 1961 and 1977 and are kept in a bespoke locked cabinet. The notebook records the birds' breeding patterns and describes eggs-species, colour, dimensions, nest materiality, clutch, incubation and parenting styles with an evolving scientific vocabulary.  These lines (or moments) extracted from the larger text speak however, of the complex and ruthless reproductive lives of birds, but also of the dichotomy of science and emotion – objectivity and subjectivities: "Eggs cold", "Nest empty", "Predation?", "Other egg laying broken beneath nest", "1 infertile egg", "The parent having been caught in a trap set on the nest. Died the next day", "Egg cold with well-developed embryo", "Eggs gone, cause not known", "2 eggs, one crushed"... Read as a list, they become comparative to notes made within maternity registers of South African hospitals – miscarriage, stillborn, teen pregnancy, NICU - and, as such, invite us to re-examine hierarchies of loss. Read Viruly's full essay on the collection here.
Letters written to Dr Chris Barnard by children, after he performed the first heart transplant in Grootte Schuur Hospital on 3 December 1967. In one, a little girl asks him how to perform a heart transplant on the dead dove she found in her garden, while in another a girl relates how she caught a fish she thought was dead, but whose heart started beating again a few hours later ('Can you explain that?' and 'If a doctor says you're dead and they take out your heart but it is still beating, are you dead or alive?'). Courtesy of the Heart of Cape Town Museum, University of Cape Town, Department of Health Sciences.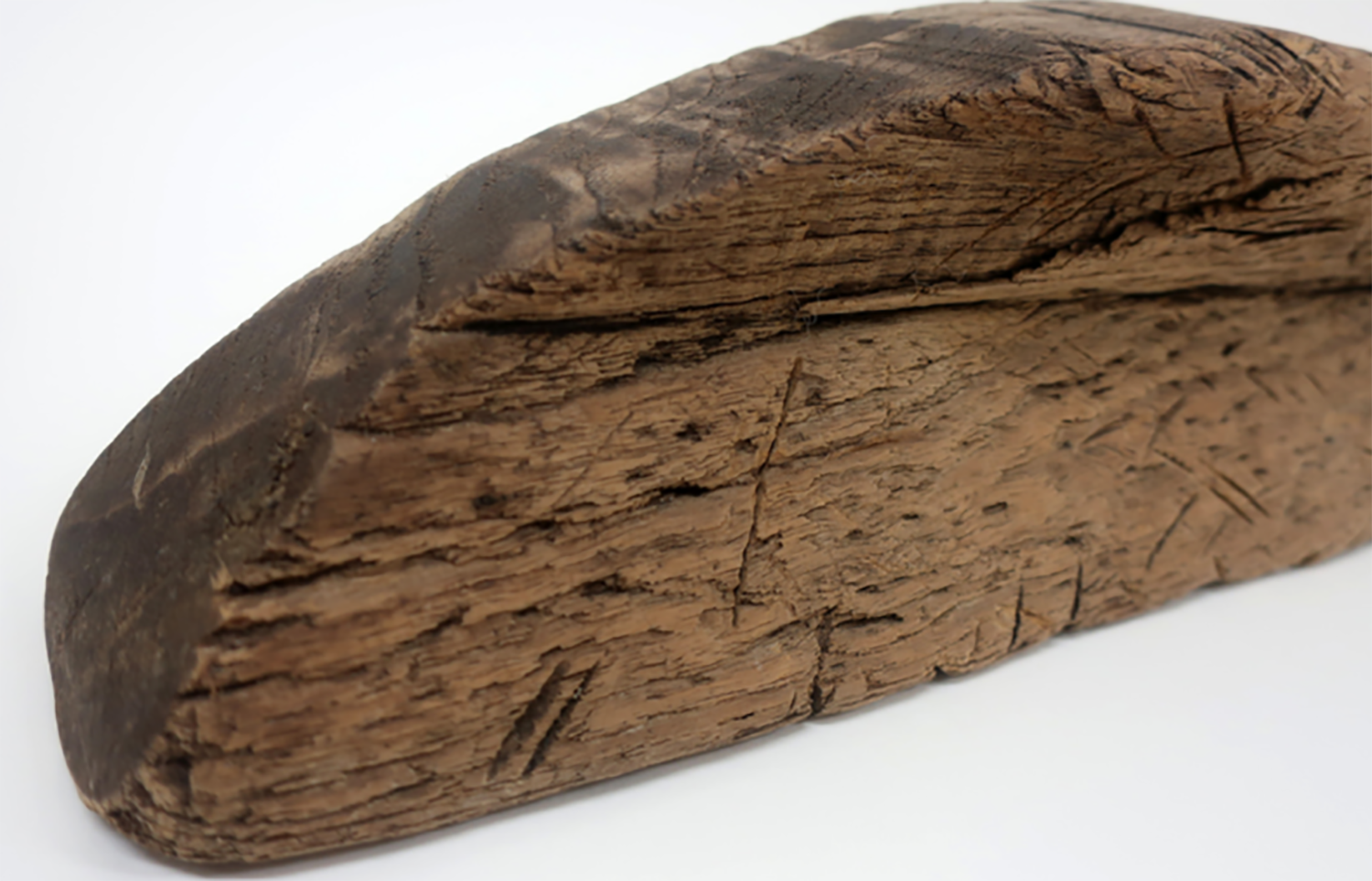 Neck support
Made from oak, this object is used to support the neck during a post-mortem examination. It is literally invested with traces of hundreds of losses - its scarred and worn surface analogous to a wounded, ill and traumatised body. Courtesy of the Pathology Learning Centre, UCT.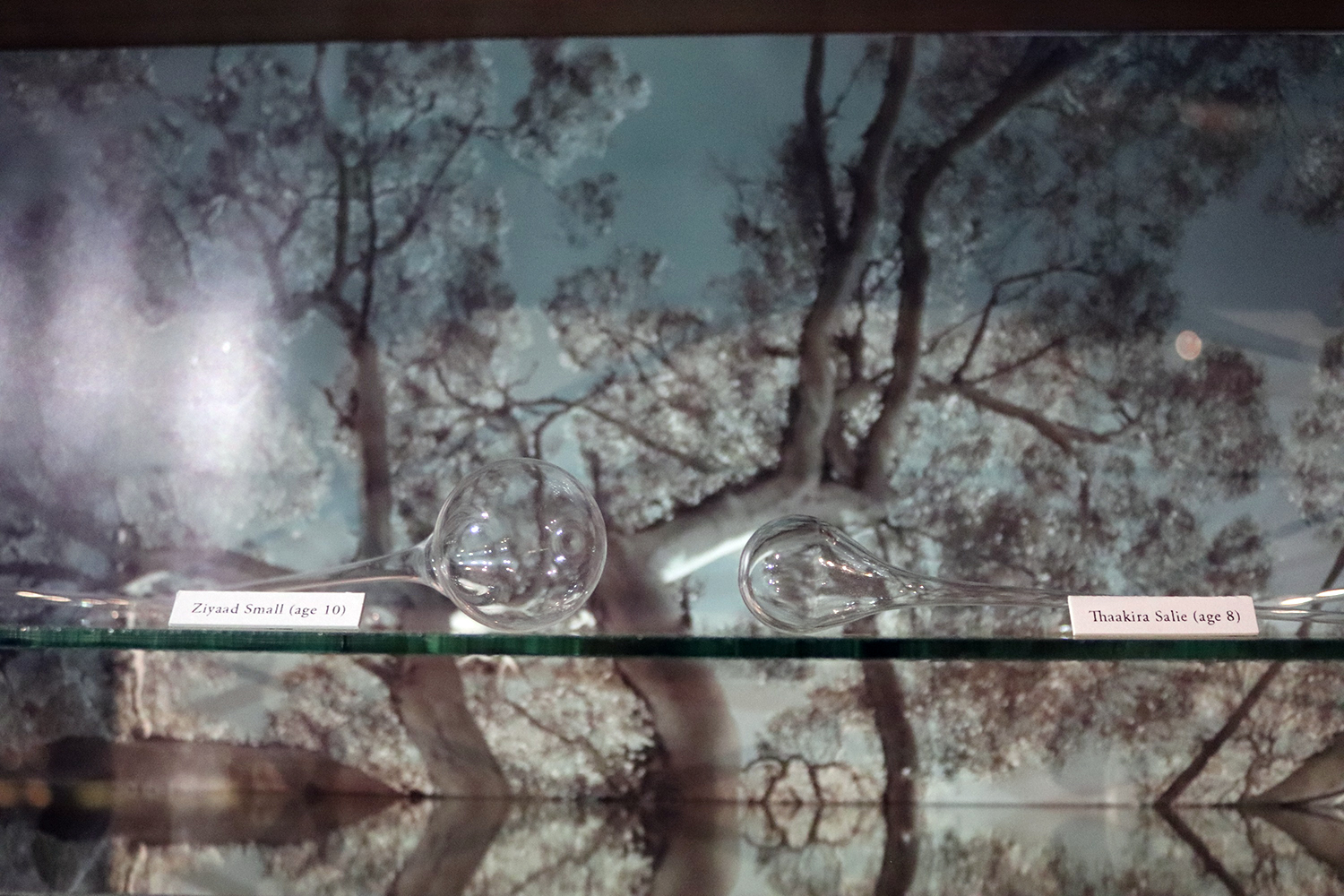 Breath sculptures. 2018
Four individual breaths of children suffering from asthma captured and sealed in glass: Thaakira Salie (age 8), Ziyaad Small (age 10), Blake Leppan (age 9) and Jessie Allot (age 11). The breaths sculptures were made in the UCT Chemistry department's glass blowing workshop, with the assistance of Andre de Jager.