Reflections on the death of an archive
Sara Byala
As news broke in April 2021 that a fire at the University of Cape Town had engulfed the Jagger Library and that its unparalleled collection of rare books, manuscripts, recordings, and more was imperilled, Africanists around the world looked on in horror. How many dissertations will never be written, we ask; how many questions never asked, how much history forestalled by this unimaginable loss?
Which got me thinking about another time a South African library went up in flames.
On Christmas Eve, 1931, the central block of the University of the Witwatersrand caught alight, burning its library to the ground. Although the loss was significant for the university and city, it was utterly devastating for one man. John Gubbins – lawyer, farmer, miner, and, most importantly, collector – had just transferred roughly 10 000 books and manuscripts to the premises for safe keeping. These volumes formed the nucleus of Gubbins's beloved Africana collection, meant in its breadth to illustrate the cultural importance of all who call Africa home and, in so doing, to help South Africans imagine a more inclusive identity. "I feel terribly upset at the news," The Star quoted Gubbins the day after the fire: "What has been built up in the course of many years has been destroyed in very few minutes."[1]
Yet, Gubbins was a dreamer. Rather than be deterred by this loss, he saw possibility. Immediately, he began scheming a way to "hatch the Phoenix's egg" from the ashes: he threw himself into fundraising on behalf of the university.[2] Then he embarked on a six-month global journey to assemble a new assortment of Africana. Travelling to Britain, France, Egypt, Singapore, Ceylon, Java and Australia, Gubbins gathered written work, in addition to objects, garnering support everywhere he and his tragic story went.[3]
In six months, Gubbins acquired enough books and items to found both a library and a museum and had generated enough interest in both to assure their public existence. Though he did not live to see either in action long, Gubbins's collection of documents became The John G Gubbins Africana Library in Wits's William Cullen Library, and his Africana objects became The Africana Museum, now MuseumAfrica – both still extant.
I became enchanted with Gubbins and his quixotic story when I got to know him in the Department of Historical Papers, in the William Cullen Library, where no one I encountered remembered why Gubbins's name was on a nearby plaque. Over a year, I worked my way through dusty boxes filled with more than a thousand letters. I read their fragile, nearly translucent pages, scrutinising Gubbins's handwriting, learning the grammar of his mind. I met him – as we "impossible-to-be imagined" readers always meet people in the archives – nonlinearly and in fragments.[4] In so doing, I learned something about Gubbins, about South Africa, and about myself.
In the wake of the UCT tragedy, there is a deep sense of loss, not unlike what happens when a species becomes extinct, or an elder passes. Those of us who know the power of the archive know that it cannot be recreated in its particularities. Nor can it be reborn unchanged in digital form, not simply because duplication – if even possible – is expensive and complex. The archive is always more than the items in it. It is the musty boxes, the haphazard order, the physical space, all of which make possible serendipity. In a collection – even an old, colonial one – the seeds of narratives that can undo what we know about the world (including what we know about the collection itself) lie in wait.
Yet, alongside lamentation for what is lost are forward-looking pleas to share digital images from the collections once housed in the Jagger Reading Room, calls that echo Gubbins's spirit of salvage and rebirth. We should applaud these initiatives and the technological moment we are in that makes a partial, replicated resurrection possible. And, just as in the 1930s, we should see that this is necessarily a global project, made easier by our interconnected world.
What do you do when an archive perishes? You mourn what has passed. Then, maybe, you imagine the possibilities held by a new space and a new collection, born fully of this time and this place. You train your eyes, as Gubbins did, not on past or present, but on future readers yet to be imagined, and you go from there.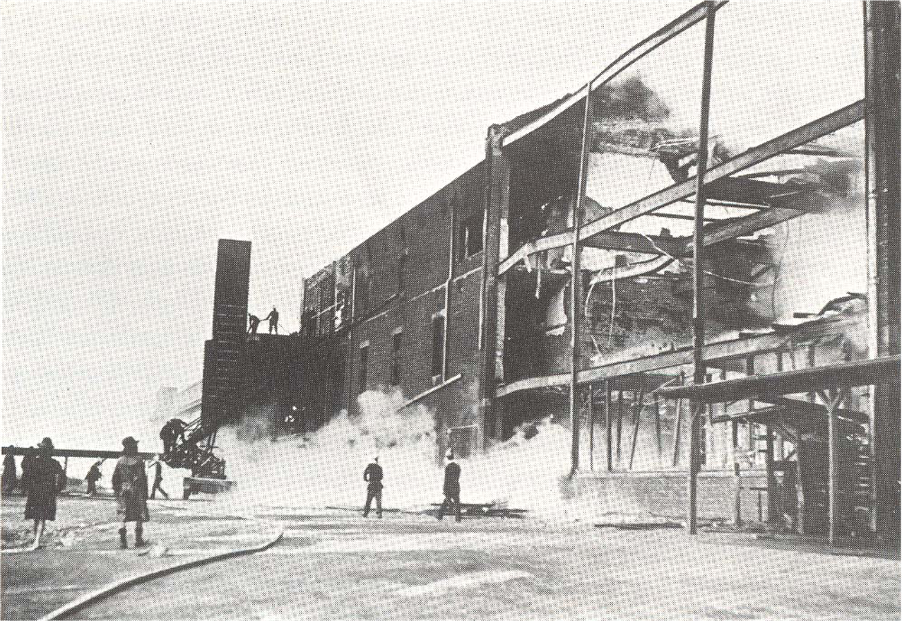 Two images that ran in The Star newspaper on 24 December 1931 under the headline "Disastrous Fire in Central Block of Rand University". A copy is held at Wits Department of Historical Papers, 1479, Box 7, 29/1400.
---
[1] "Rare Books Destroyed in Fire," The Star, 24 December 1931, A1479, Wits Historical Papers.
[2] F. R. Paver, "John Gaspard Gubbins: Origins and Early Days of the Africana Museum," Africana Notes and News 15 (1963): 322.
[3] Scrapbook of Gubbins's journey on the T. S. S. Ulysses, compiled by Miss Phyllis Gubbins, A1479 5, Wits Historical Papers.
[4] Carolyn Steedman, Dust: The Archive and Cultural History. (New Brunswick: Rutgers University Press, 2001) p. 150.