Humanitarian award for UCT alumnus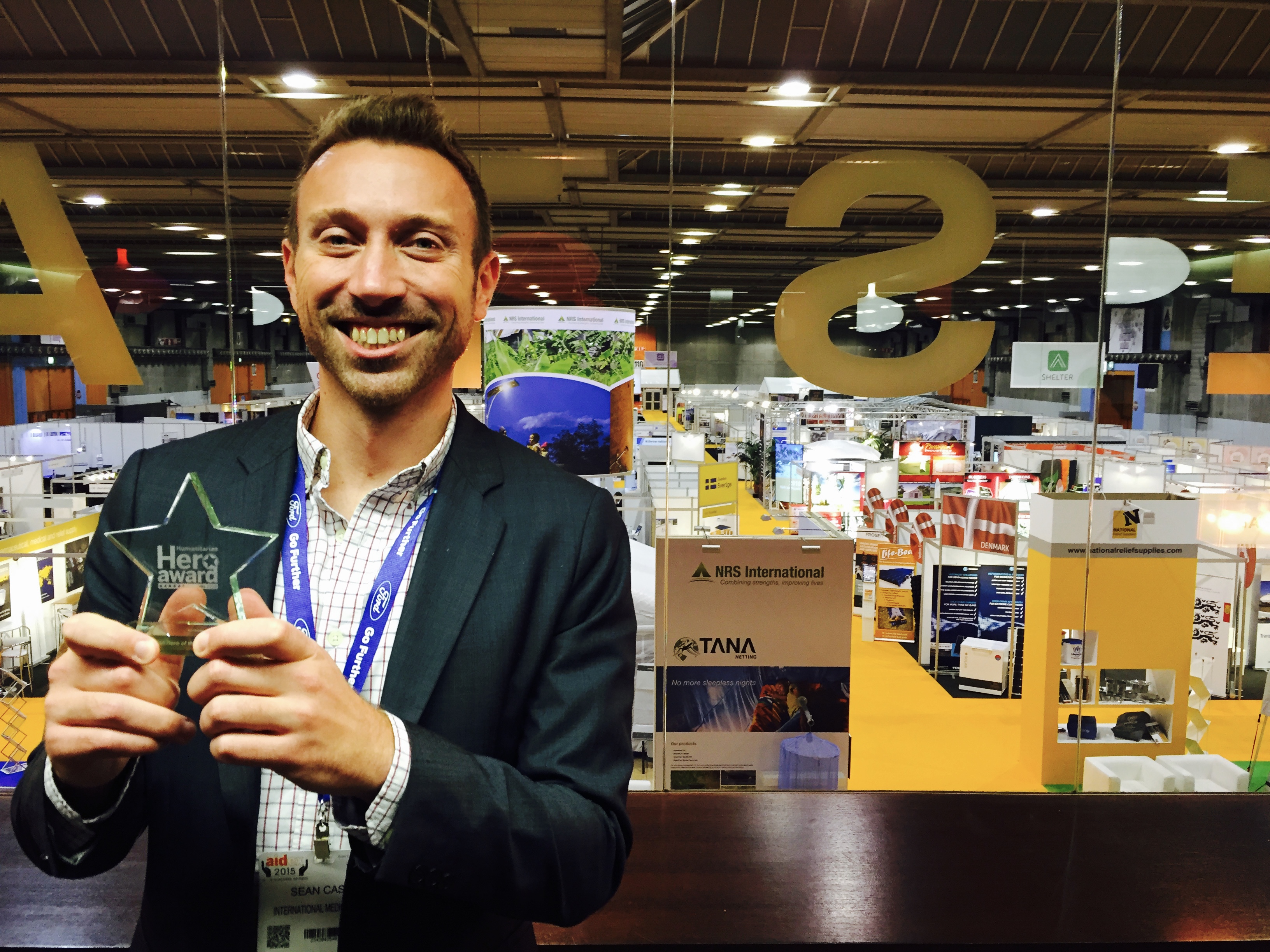 It's not often that a university can lay claim to a humanitarian super star. UCT alumnus and international human rights activist Sean Casey has allowed us to do just that. Casey received the AidEx Humanitarian Hero of the Year Award late last year for his work in organising complex aid missions, impacting thousands of lives throughout the world. Among his many accomplishments, he was a first responder during the Ebola outbreak in West Africa and after the earthquake in Nepal (2015), worked in the Ukraine (2014), the Philippines (2013/2014), Mali (2013), South Sudan (2012) and in Haiti (2011/2012). In addition, he has worked to support survivors of torture in Iraq, child soldier reintegration in Sri Lanka and in the Democratic Republic of the Congo as well as sexual minority protection initiatives in Syria, Nigeria and Pakistan. Casey is based in Bangkok, Thailand where he currently holds the position of Senior Global Operations Advisor for International Medical Corps. Humanities News caught up with this hugely inspirational, yet very humble human being.
HN: From a BA in International Communication (The American University of Paris) to the MPhil in HIV/AIDS and Society (University of Cape Town) - how did your tertiary education prepare you for a career in public health and humanitarian aid?
SC: I grew up in suburban America, in a small town called "King of Prussia", Pennsylvania, where I had almost no international exposure. I made my first trip abroad to France and Spain when I was 17, with a high school group. That trip opened my eyes to the world beyond my suburban bubble, and made me want to explore more. When it came to choosing where to go to university, I found the American University of Paris and immediately fell in love with the idea of studying there. At the time, AUP had around 800 students from 100 countries - and in the middle of one of the world's great cities. I discovered UCT when I was studying in Paris, as the two universities had an exchange arrangement. I decided to spend a semester abroad during my third year in university, flying to Cape Town to take courses on South African politics, liberation movements in southern Africa, and development. While living in Cape Town, I volunteered with SHAWCO in Khayelitsha and traveled extensively around the region - visiting Mozambique, Lesotho, Zimbabwe, Zambia and Botswana. All of these experiences led me to want to work in development - and particularly in HIV/AIDS. So when it came time to choose a postgraduate programme, UCT was the obvious choice and I returned to do my MPhil in HIV/AIDS and Society in 2004. Collectively, these experiences and opportunities put me on my career trajectory, giving me the skills and training to do my work, as well as exposure to many different cultures and ways of thinking. I couldn't imagine doing things differently.
HN: Thinking about your background and family life, what do you think drew you to this career in the first instance?
SC: I grew up in a household that was very service-oriented. While we didn't travel much and had limited exposure to other parts of the world, my parents always encouraged my sister and I to do what we could to help others, and they supported us in volunteering with different groups as we were growing up. We both ended up in "helping" professions - my sister is a nurse practitioner in the United States, and I ended up in international humanitarian response. I suppose I'm most driven in my work by the principle that we can and must do better for people - for each other. We should have a sense of collective responsibility to reduce suffering and increase opportunities, and that's what inspires my work in this field.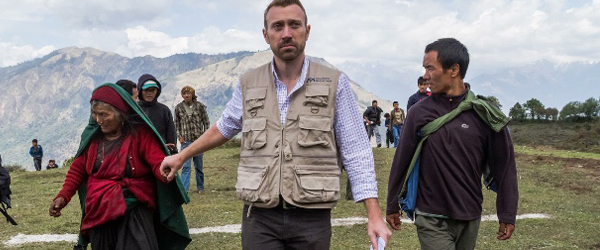 Sean Casey obtained an MPhil in HIV/Aids and Society from UCT in 2006 and has worked in the public health sector in over 30 countries. In 2015, thousands of his peers in the humanitarian aid and development sector voted him "Humanitarian Hero of the Year." Photo appears courtesy International Medical Corps.
HN: You have led many successful rescue and aid missions in some of the worlds most dangerous regions - what does being a first responder entail?
SC: It's so difficult to concisely describe a "first responder", as we have so many different formal roles, and then we also end up doing whatever is needed to get help to those who need it. I suppose the key elements are speed and flexibility. We must move quickly in emergency situations, as lives depend on our response time. At the same time, we need to be creative and flexible to react to unknown and often-changing needs. I've responded to conflicts, natural disasters of all kinds, and disease outbreaks - every response and every country is different, so the key is to quickly determine the needs, find the most effective ways to respond, coordinate with local authorities and other responders, and then immediately put together the right group of people, supplies and systems to make it work. The challenges are compounded by the fact that we often have to navigate our own logistics at the same time - finding a place to sleep, how to get food and water, and figuring out transportation. In major disasters, these seemingly simple things can become extremely difficult.
HN:  Most memorable encounter(s) you've had on these missions around the world?
SC: I have so many vivid memories from my work in the field. Living through the Nepal earthquake and then launching International Medical Corps' response within a few hours particularly stands out. My friends and I were almost crushed by a falling building when the massive earthquake hit, we walked 10 kilometers back to our hotel to find it collapsed, camped on the lawn of our hotel that night, and somehow managed to pull together the people and supplies to deploy a mobile medical unit to the epicenter less than 24 hours after the quake. I also have many vivid memories from working on the Ebola response in West Africa - both bad and good. I went out with our ambulance team to pick up our first patient when we opened International Medical Corps' first Ebola Treatment Unit at the peak of the outbreak in Liberia - a teenage boy who was sick but ambulatory. He died within a few minutes of our arrival at the Unit, and I'll never forget the feeling of despair that washed over all of us that night. I also remember our first Ebola survivors, one of whom - named Comfort - came back to work with us in the Treatment Unit only a few days after she was discharged, primarily to comfort and care for children in the Unit. I'll never forget her and the many other heroes I worked with on that response - putting their lives on the line day after day to end the outbreak.
HN: So, what does being named the AIDEX Humanitarian Hero of the Year (2015) mean to you on a personal level?
SC: The AIDEX award was such an honor, and I really feel that it reflects the work that all of us did together in 2015. There are a lot of failures in global humanitarian response - times when we don't have the money to meet the most basic needs, or the political will to make the changes that are needed to save lives. But in 2015, I was lucky to work on responses in Nepal and in West Africa that brought together the best people, unprecedented resources and collective commitment to save lives and rebuild communities. To me, the award wasn't for me - it was for the hundreds of people I worked with in Nepal, Liberia, Sierra Leone, Guinea, Mali and Guinea Bissau who were committed to making a difference in the lives of those suffering around them.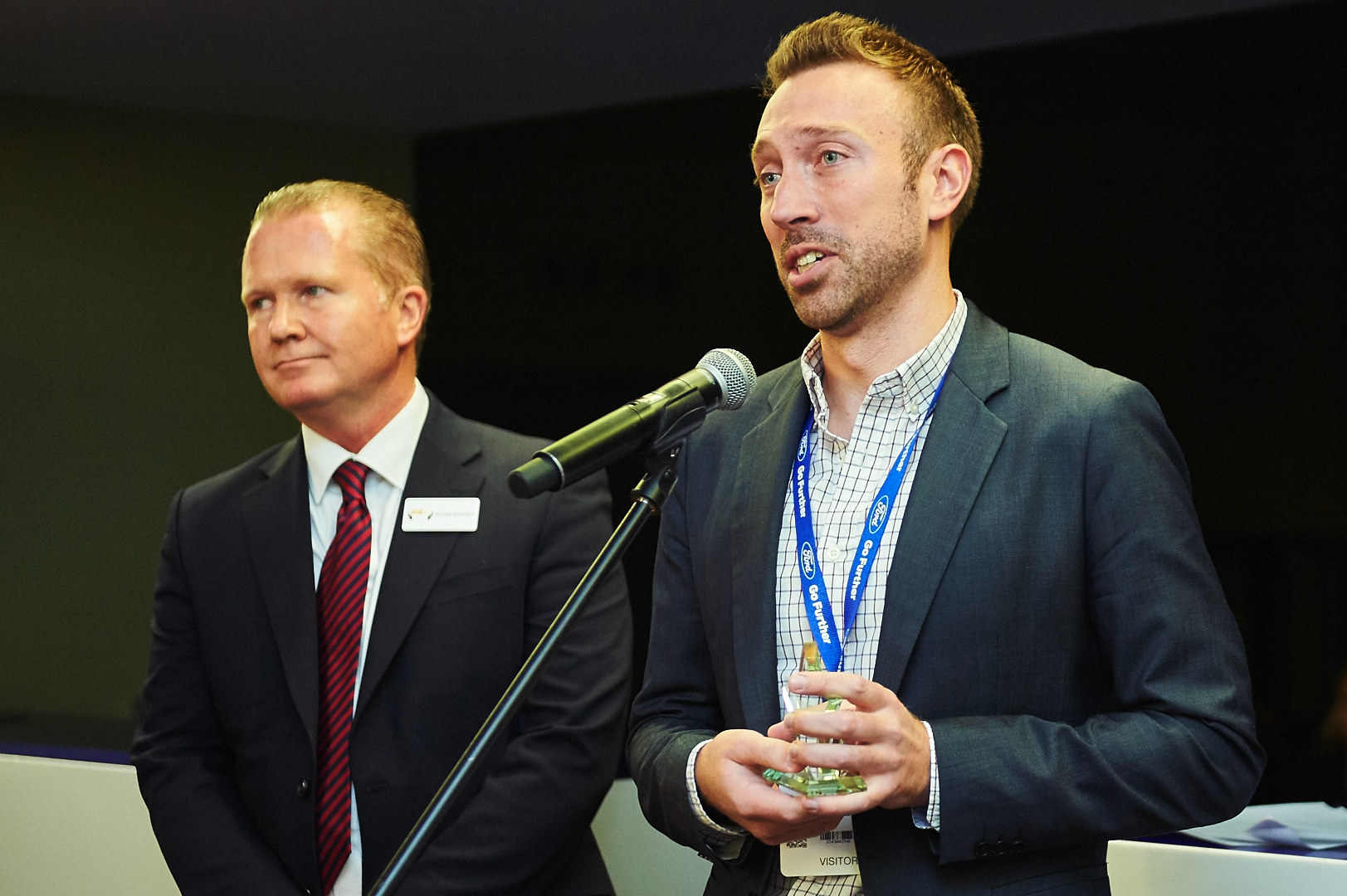 Sean Casey accepting the AidEx Humanitarian Hero of the Year Award. Photo appears courtesy of International Medical Corps.
HN: What advice can you give to UCT Humanities students who might be considering a similar career in Human Rights Advocacy and in Humanitarian Aid work?
SC: The best advice I can give to those interested in this kind of work is to stick to your convictions, to focus on action and to learn by doing. It's easy to get bogged down by bureaucracy in this field. The paperwork will always be there, and to some extent it's unavoidable, but if you keep the focus on the people and on the change you hope to realize, you'll do well for yourself and for those around you.
HN: How can universities better prepare students for careers in the service of humanity? 
SC: Every year, I teach a module for Master's students at the American University of Paris on humanitarian response, and I focus heavily on the practical elements of the work, as I feel this is what is often lacking in academic programs on international affairs, international development and humanitarian response. We've become very good at teaching students to think about poverty, displacement and suffering, but not very good at teaching them how to concretely address these problems. Students pursue these subjects because they want to *do* something - not because they want to think about them. I'm convinced that we could improve student experiences, improve job readiness and amplify impact by expanding students' capacity to implement participatory needs assessments with affected communities, to develop livelihoods programs, to manage budgets and staffing that are central to real-world work, and to raise funding - as this is central to all development and humanitarian work everywhere in the world. We need to get students out of the classrooms and into the real world - through simulations, internships, and other approaches that move beyond the read-analyze-write-discuss model that we so often apply. I believe that UCT is doing very well on this front, though there's always room for improvement. 
HN: What do you enjoy doing in your down time - if such a thing exists in your extremely busy life?
SC: Ah, we all have down time! If President Obama can work in time for basketball, we can all find time to do something we enjoy! At least this is what I always tell myself... I try to fit in a run or a Freeletics workout whenever I can. I've recently become an endurance runner, which is my main hobby these days. In the past few months I've run in Tanzania, the US, Thailand, Myanmar, New Zealand, Fiji, Ukraine and Japan - and I raced in a half-marathon in Bhutan. Wherever my work takes me, I run. I've also signed up for four full marathons over the next year - on Easter Island (in the Pacific Ocean), in Iceland, on a glacier in Greenland, and next April at the North Pole! I'm running these marathons to raise money for International Medical Corps' humanitarian response work around the world.
For more information on Sean Casey's "No Matter Where" fundraising marathons, visit his campaign page.