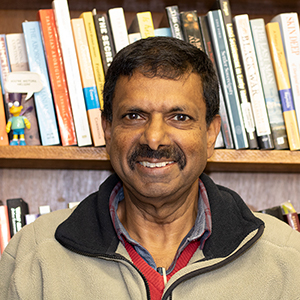 Emeritus Associate Professor Mohamed Adhikari received his PhD from the University of Cape Town. After nearly three decades of research on various aspects of coloured identity and politics in South Africa he recently started working in the area of genocide studies, with a particular focus on settler colonialism and genocide.
Contact details:
E-mail: mohamed.adhikari@uct.ac.za
Telephone: +27 (0)21 650 2962
Room 255,  Beattie Building, University Avenue, UCT Upper Campus, Rondebosch, 7701
Research Interests and Areas of Supervision:
Settler colonialism and genocide
Courses Taught:
HST2045L — Genocide: African Experiences (Winter Term)
HST4055/5055S — Racism, Colonialism and Genocide (Hons/MA)
Select Awards:
1995      — UCT Distinguished Teachers Award
2012      — UCT Distinguished Social Responsibility Award
2015-22 — Various National Research Foundation funding awards
2020      — International Network of Genocide Scholars inaugural Impact Award
Select Publications: Books, Monographs and Edited Works only
| | |
| --- | --- |
| 2022 | Destroying to Replace: Settler Genocides of Indigenous Peoples (Cambridge, Mass., Hackett Publishing, forthcoming March) |
| 2021 | Civilian-driven Violence and the Genocide of Indigenous Peoples in Settler Societies (ed.), Abingdon, Routledge) |
| 2015 | Genocide on Settler Frontiers: When Hunter-gatherers and Commercial Stock Farmers Clash (ed.), (Berghahn Books, New York) |
| 2012 | Against the Current: A Biography of Harold Cressy (Cape Town, Juta) |
| 2010 | The Anatomy of a South African Genocide: The Extermination of the Cape San Peoples (Cape Town/Athens, UCT/Ohio University Press) |
| 2009 | Burdened by Race: Coloured Identity in Southern Africa, (ed.), (Cape Town, UCT Press) |
| 2005 | Not White Enough, Not Black Enough: Racial Identity in South Africa's Coloured Community, (Athens, Ohio University Press) |
| 2002 | Dr. Abdurahman: The Man and His Work (ed.), (Cape Town, National Library of South Africa) |
| 2000 | South Africa's Resistance Press: Dissident Voices in the Last Generation of Apartheid, (co-edited with Professor Les Switzer, School of Communication, University of Houston), (Athens, Ohio University Press) |
| 1997 | Jimmy La Guma: A Biography by Alex La Guma, (ed.), (Cape Town, South African Library) |
| 1996 | Straatpraatjes: Language, Politics and Popular Culture in Cape Town, 1909-1922, (ed.), (Pretoria, van Schaik) |
| 1996 | James La Guma (Cape Town, Maskew Miller Longman; They Fought for Freedom series) |
| 1993 | Let Us Live for Our Children: The Teachers' League of South Africa, 1913-1940, (Cape Town, UCT Press) |
Work in progress:
I am currently working on two inter-related projects. The first is to write a volume on case studies of settler genocides of Indigenous peoples in the making of Western global dominance. The second is to do another book exploring key themes on the subject.