Discover our Web Exhibitions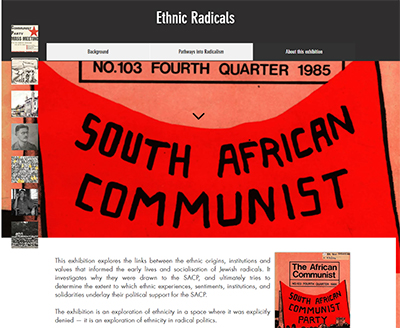 The Kaplan Centre presents our online exhibitions:
Ethnic Radicals
This exhibition explores the links between the ethnic origins, institutions and values that informed the early lives and socialisation of Jewish radicals. It investigates why they were drawn to the SACP, and ultimately tries to determine the extent to which ethnic experiences, sentiments, institutions, and solidarities underlay their political support for the SACP.
The exhibition is an exploration of ethnicity in a space where it was explicitly denied — it is an exploration of ethnicity in radical politics.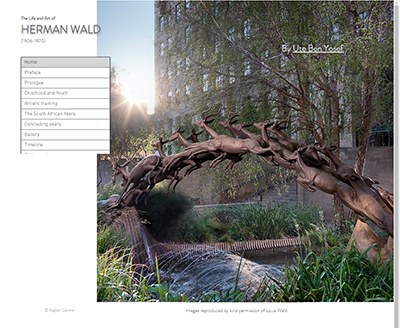 The Life and Art of Herman Wald
Born in Transylvania (now part of Romania) Herman Wald found refuge in South Africa in 1937. One of eight children of Rabbi Jacob Meir Wald,  his artistic talent was recognised early and he studied  and worked in Budapest, Vienna, Berlin, Paris  and London.
Although his talent and ability was appreciated in Europe as a distinguished  representative of 20th century modernism, he  has received surprisingly little recognition in this country. Despite  participating  in numerous group and solo exhibitions and being awarded important commissions, including the Impala fountain and the Yom Hashoah Memorial at Park Cemetery in Johannesburg, he is relatively unknown both to the Jewish public and the art cognoscenti.
The online exhibition aims to draw additional and lasting attention to the life and work of this exceptional artist.  It provides a coherent and chronological overview seen within the perspective of his time on the art historical map together with an interpretation of his work. He can now be allotted his rightful place both in the history of 20th century art and within South African historiography. 
Visit the Life and Art of Herman Wald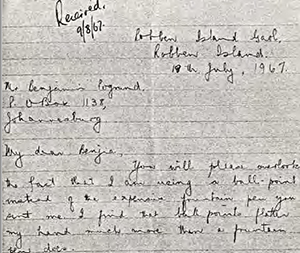 "To wash one's enemy's wounds"
The purpose of this exhibition is to give interested readers a taste of the correspondence exchanged between Robert Sobukwe and Benjamin Pogrund between 1960 and 1969. The correspondence is the focus of my doctoral dissertation: "Speaking as one African to another": Friendship in the Letters of Robert Sobukwe and Benjamin Pogrund, which explores, among other things, the relationship between friendship and politics.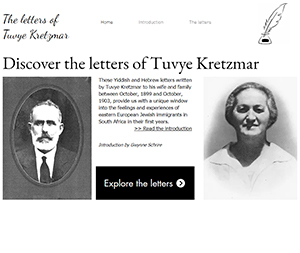 The letters of Tuvye Kretzmar
These Yiddish and Hebrew letters written by Tuvye Kretzmar to his wife and family between October, 1899 and October, 1903, provide us with a unique window into the feelings and experiences of eastern European Jewish immigrants in South Africa in their first years. 
Visit the letters of Tuvye Kretzmar.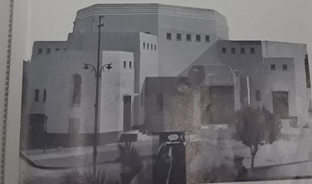 The Green and Sea Point Hebrew Congregation from its origins to 2010
This study, based on years of archival research, explores how the Green and Sea Point Hebrew Congregation in Cape Town, also known as the Marais Road Shul, faced a changing South African political and religious environment over the course of its history. It looks at a Jewish community living in a seaside suburb in the British Cape Colony, which then became part of the Union of South Africa, a British dominion, then part of the Cape province in the Republic of South Africa under the apartheid Government, and finally part of the Western Cape province under a democratic government.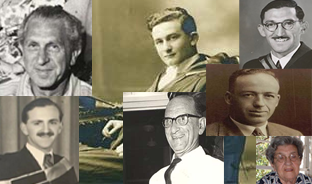 Partners in Primary Care: Jewish Doctors and Pharmacists in the Northern Suburbs of Cape Town, 1930-1980
This exhibition explores the lives of medical professionals – doctors and pharmacists – who practiced in the northern suburbs of Cape Town. It draws upon reminiscences of their lives and work as told by themselves, their spouses, and their children.
The South African Jewish Cookbook Project
In the mid twentieth century, Jewish women across South Africa began to produce cookbooks to raise money for community organisations. These books showed their readers far more than simply how to cook. In their cookbooks, South African Jewish women expressed their aspirations, formulated Jewish identity and practice, and carved out a place for themselves as women in the community and in their homes. The South African Jewish Cookbook Project brings these books together in one place for the first time.