As told by his son Stephen Mallach
1910-2003
My Dad, Nathan, was born in Burgersdorp in 1910 to Russian immigrants who had immigrated to South Africa in the early part of the 20th century. He was the eldest of five brothers, one of whom passed away in infancy.
As a young child he participated in many sports and unfortunately sustained a serious leg injury at the age of approximately 13.  This put an end to his sporting career. 
Unfortunately his Dad passed away when he was very young and the family were left with no means of financial support.
He earned money by playing the piano in the movie houses during the era of silent movies and thus was able to pay to educate himself.
After matriculating, he studied medicine at the University of Cape Town where he graduated in 1935.  Thereafter, he did his residency at Trinity College in Ireland and after working in the UK for a few years, returned to SA where he opened a practice in Goodwood in approximately 1939.  About the same time, he married Leah Antonis with whom he had four children.
His initial premises was a small office/shop where one could hardly swing a cat. However, he purchased a property on the Main Road in Goodwood which subsequently became Voortrekker Road.
Attached to the property was the surgery with separate entrances for Whites and Coloureds, which unfortunately was common during that period.  House calls were made by all doctors during that period and Goodwood, being undeveloped at that time, particularly the area now known as N1 City, formally known as The Acres, had no roads and was sandy.  As a result, patients would sometime come with their horse and cart to fetch Dad for a house visit.
For a short period during the 1940's he was in partnership with Bernie Wortreich, a few years prior to having Hymie Ehrlich join him first as an assistant and later as a partner in 1955.  Oscar Segal joined a few years later as partner.
I remember the bulk purchases of ointments and medication which were delivered to the surgery and which were dispensed on the premises.
At the end of the month, my mother and the partners wives would have" tea parties" while doing the accounts of the practice.  In those days a consultation was about £1.1.
Due to his leg injury Dad employed a driver to drive him on his house calls or whenever necessary.  In addition the driver also assisted in interpreting when necessary in the surgery.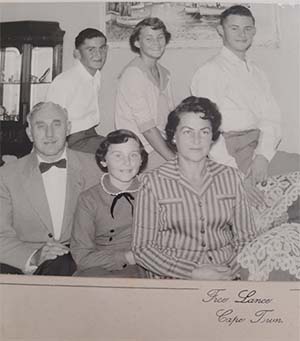 Notwithstanding the problems he had with his mobility, Nathan was very active in civic affairs and during his tenure as councillor, was also mayor of Goodwood for three years.  During this time he laid the foundation stone of amongst others, the Goodwood Magistrates Court and Library.  In recognition thereof, Nathan Mallach Street in N1 City was named after him.  Simultaneously, he was the President of the Goodwood Rotary Club. 
In 1969 he was coerced into demolishing our home and replacing it with a building housing the surgery, other professional offices and shops and in addition his personal residence would be on the top floor of the building. 
Unfortunately, life took a bad turn and the effect of the move caused the death of my mother and the home never materialised. This occurred after the house had already been demolished. A few years later he moved to Sea Point and married Enid Berzack.
He subsequently retired from the practice in the early 70's after which he performed shifts at the Conradie, Woodstock and Tygerberg Hospitals.
Dad passed away peacefully at Highlands House at the age of 93 in 2003.