1993 – A year of anniversaries
1993 was a year of celebrations. For the 50th anniversary of the Ladies Guild a special tea party was held with Rabbi Steinhorn as a guest speaker and songs from Cantors Aryeh Rand and Ivor Joffe (12.7.1993). A mini-shul for daily minyanim was inaugurated with a cocktail party with Rabbi Steinhorn[i] explaining how that happened and most importantly, it was their 60th anniversary with congratulatory notes from many including Chief Rabbi Harris, Rabbi Steinhorn,[ii] and Mayor Frank van der Velde who wrote that Cape Town was very proud of her Jewish community which had dedicated its energies and lives to create a marvellous city. Bnei Akiva's Shaun Borstrock thanked it for their long and pleasurable history together going back more than 16 years, from Shul services in the Minor Hall, weekly meetings and annual functions to inter-Shul co-operation on Yomim Tovim. Rabbi Prof Jacob Newman, from Bar Ilan University, recalled the years he spent with G&SPHC as the most gratifying period in his Rabbinic career - the large attendances at services, the very friendly attitude of its members, and the wonderful spirit that prevailed in the community which was a heart-warming and fulfilling experience.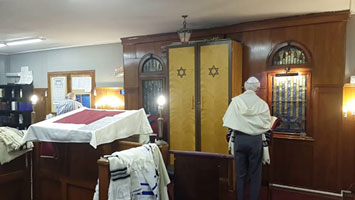 Mini-shul for weekday minyanim
As for the Chevra Lomdei Torah, the shul had opened the Gabriel Sacks Torah Resource Centre, named after long time and keen member.[iii] Furthermore, the G&SPHC choir had released a tape, Sounds of Shabbat, featuring Cantor Rand and choir which was sold for R30.00 and to top off the anniversary celebrations, the congregation put on a musical farce for two nights, a New Mock Wedding, with the story by Gertie Awerbach[iv] and a video of the event. The audience was convulsed with laughter as they watched the nuptials of the bashful bride, Miss Abe Newman, with her father Mr Zundelfartz alias Abe Swersky, her mother-in-law Mrs Tzupperpupick alias Philip Krawitz, her bridegroom and his alter ego, Abe and Solly Krok, Eric Samson and Aaron Searle as the dutiful pole holders.[v] Unfortunately, although a most enjoyable and fantastic P.R exercise, it was a financial loss.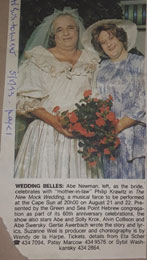 Argus 5.8.93
---