Enid Daitsh (1921-2009; married name: Mendelsohn)
As told by her son, Richard Mendelsohn
'A compassionate woman who turned adversity into a life of service.'
These words, chosen for my mother's tombstone, capture an essential element of the life of a remarkable person.
Born in 1921 to Heshel and Etta Daitsh, who had moved from the Orange Free State to Parow after the First World War, she grew up with two older siblings, Abe and Thelma, in a family home in the street behind Grand Bazaars, her father's store on the main road. She initially attended the local convent school, before going on to Parow Primary, (now the impressive Hugo Lambrechts Music Centre), and later, the Good Hope Seminary in Cape Town, the preferred choice for young Jewish women in the interwar years. After Heshel prospered through property development in Parow, the family relocated to a grand house in Avenue Normandie in Fresnaye, Sea Point.
While Enid, who had a lifelong affinity for young children, would have preferred to have become a kindergarten teacher, her father, who had remarkably progressive ideas for an immigrant parent of his generation, insisted that she instead study medicine. (He encouraged her older sister Thelma to study architecture.) She graduated in 1943, at the age of 22, one of the very few women in her medical school class. (She recalled years later the gender segregation in anatomy lessons where the women students were assigned to a separate cadaver. We also found in her papers a letter of recommendation by one of Groote Schuur's great Scottish professors, recommending her as a future doctor despite her 'condition', this a barely concealed reference to her gender!)
After graduation she worked at the Peninsula Maternity Home and in 1944 married Leonard Mendelsohn, then a captain in the South African Medical Corps.
In 1946 she gave birth to Collin and then three years later to Richard, and then to Jeffrey in 1953. As was typically the case at the time, married life took preference over medical life, and she, like Alma Green, wife of Solly Freedberg, who Leonard had joined in partnership in Parow in 1950, did part-time work in public clinics. This changed in the mid-fifties. Soon after Richard's birth it became apparent that his older brother Collin had severe neurological problems, including epilepsy. A visit to the Great Ormond Street Hospital for Children in London and to the famed Dr Penfield in Montreal, yielded little result. Collin's condition only worsened over time and he passed away at the age of 41 in 1987.
Leonard and Enid were devoted parents.
In the 1950s, in the midst of these personal difficulties, Enid initiated what became her life's project. With the support of the Goodwood municipality, she and a few others created a day centre for intellectually challenged black children (and later young adults) in a building near the railway station in Elsies River. This was done under the auspices of the Oasis Association which had recently established a special school for white children in Lansdowne.
In these apartheid years there was no equivalent provision in Cape Town for black children. Enid devoted decades to this project: she simultaneously performed a range of tasks, including acting as its medical officer, its fund-raiser and its general secretary. Over time, the original centre expanded to include a sheltered workshop elsewhere on the Cape Flats.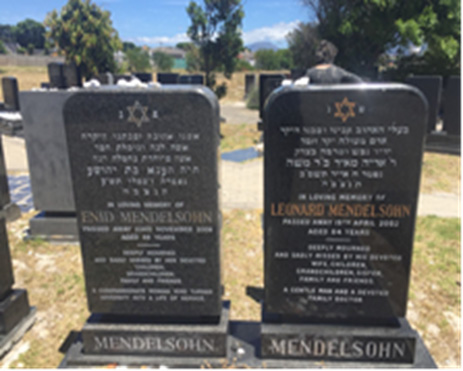 When Enid died in 2009 at the age of 88, after suffering a stroke two years previously, her funeral at Pinelands was attended by many whose lives she had touched. As her son, I had the deeply moving experience of a lengthy stream of people approaching me individually to tell me that they and my mother had had a 'special relationship'.
What they were all referring to was Enid's great gift of empathy, her deep kindness, concern and personal warmth.