Hymie (Hyman) Cotton (1924- 2012)
As told by his son Mark Cotton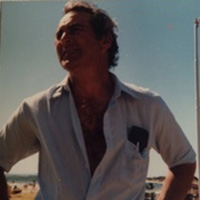 My father was born in the Strand, Western Cape province of South Africa in 1924. His deep desire was to study medicine but because his parents were too poor to afford the fees and his poor school performance in mathematics, he studied pharmacy at the Cape Technical College. While working as a pharmacist in Cape Town, an eminent general practitioner from Goodwood, Dr. Solly Smiedt, suggested that he open the first pharmacy in Goodwood.
Goodwood was founded in 1905 and became a municipality in 1938. It is situated close to the city of Cape Town. Most of the inhabitants were 'blue collar' workers. Between the 1940s and the 1970s, virtually all general practitioners and pharmacists in Goodwood were Jewish.
Cotton's Pharmacy opened in 1947. Over time, it expanded from a single pharmacist to a staff of 10 to 12 people. In the early 1960s, when after-hours services were permitted, my father, together with a colleague, Mr. Reggie de Villiers, opened the Owl Pharmacy. After a year or two, when Mr. de Villiers was no longer able to continue, my father amalgamated the two separate pharmacies into Cotton's Owl Pharmacy, retaining the after-hours service.
Over time, the pharmacy relocated to bigger premises, but all within the same block. He enjoyed interacting with clients and acting as a bridge between the clients and the doctors.
He loved compounding his own ointments that occasionally relieved skin conditions that dermatologists were unable to resolve. He even made successful ointments for veterinary applications. He was gratified to know three generations of clients. Many customers venerated his medical advice above that of the doctors. He was very community-minded and served on the Goodwood town council. He loved sport and was an avid golf player. His wife, Sheila, provided administrative support by reconciling invoices and managing the accounts.
He finally closed his pharmacy in October 1999, selling it to Mr. Harry Singer, owner of Monument Pharmacy, just across Goodwood's main road. Read more about this.