Archival Research Inquiries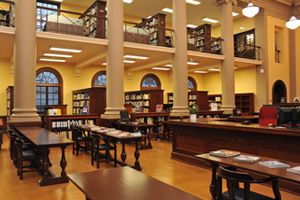 The Kaplan Centre Archive is home to one of the largest collections of historical material relating to Jewish life in South Africa.  Our archive contains personal papers as well as congregational and organisational records.
Though the archive is primarily for academic research, we are able to assist with inquiries relating to genealogy and family history.
The archive contains passenger arrival registers for the period between 1924 and 1929, as well as shipping manifests in digital format between 1890 and 1930. The archive does not hold any birth and death certificates, and only a small selection of marriage certificates from particular synagogues in the Western Cape.
Kaplan Centre archivist Katie Garrun is available to assist with research queries at KCarchivist@uct.ac.za.
Research and photocopying related to Lithuanian passport applications, as well as intensive genealogical research, is conducted on a fee-based schedule. For extensive research using our records, we will supply the contact details of an experienced independent researcher.
Guide to Manuscripts in UCT Libraries
Please note, the link that follows is a guide to the broader collections of manuscripts held by the University of Cape Town, which includes the collections held in the Kaplan Centre store.
Download: this document outlines the collections held by the Centre.
Rates and Fees:
Digital scans of documents are supplied at R100 per image. We provide certified copies at R250 per document.
For those in search of genealogical information, we recommend starting with the websites listed below:
http://www.jewishroots.uct.ac.za/
A comprehensive database of records and information relating to Jewish immigration to South Africa.
Disclaimer
The Jewish Rootsbank holds data recorded from various Jewish communities and organizations across Southern Africa, and in some cases projects and institutions in the UK.
The only original documents housed at independent researchers and genealogists the University of Cape Town are passenger arrivals lists from 1924 to 1929. Digital copies of shipping manifests from 1890 to 1930 are also available, but please note that we do not hold the original versions.
In order to obtain copies from the passenger arrival lists from 1924 to 1929, or the shipping manifests,  please send a screenshot of the Jewish Rootsbank record to KCarchivist@uct.ac.za
The Jewish Rootsbank and the Kaplan Centre do not conduct genealogical research. If you would like the details of  independent researchers and genealogists recommended by the Kaplan Centre, contact as at  KCarchivist@uct.ac.za
 
https://www.jewishgen.org/SAfrica/
Brings together Jewish genealogy researchers with a common interest in Southern Africa. This page is a portal to basic information about Southern African research, as well as a research community focused on the subject.
 
https://www.rootstech.org/blog/10-great-resources-for-jewish-genealogy
A blog suggesting possible websites for Jewish genealogical research.
 
www.litvaksig.org
LitvakSIG is the main research system of Lithuanian-Jewish genealogy around the world.
 
https://www.iajgsjewishcemeteryproject.org/south-africa/index.html
A non-profit volunteer cooperative initiative of the International Association of Jewish Genealogical Societies and JewishGen, this site identifies Jewish burial sites in South Africa.
 
https://www.myheritage.com/
My heritage is an online genealogy platform. Users of the platform can create family trees, upload and browse through photos, and search through over 12.5 billion historical records, among other features.
 
https://www.ancestry.com/
Ancestry.com operates a network of genealogical, historical records, and related genealogy websites.
 
https://kehilalinks.jewishgen.org/
JewishGen KehilaLinks (formerly "ShtetLinks") is a project facilitating web pages commemorating the places where Jews have lived.  KehilaLinks provides the opportunity for anyone with an interest in a place to create web pages about that community.  These web pages may contain information, pictures, databases, and links to other sources providing data about that place.
 
https://safrika.org/schiff_en.html
Passenger lists for ships that left Hamburg during the second half of the 19th Century and early 20th Century to South Africa.
 
Guide to SAJBOD Archives in Johannesburg
Contact eric@sajbd.org for assistance.
 
https://chol.website/about.htm
This forum was set up in 2020, by Geraldine Auerbach MBE and Eli Rabinowitz together with Professor Adam Mendelsohn, Director of the Kaplan Centre for Jewish Studies at UCT, Gavin Morris, Director of the South African Jewish Museum in Cape Town, and their archivists, Katie Garrun and Leila Bloch. The rise of the internet has provided unprecedented means for connecting people as well as being a (hopefully) secure repository of information. Many people with a passion to preserve the history of their communities have grasped this opportunity with both hands. CHOL aims to facilitate those working to preserve the footprint of Southern African Jewish communities in digital format for future generations
 

The National Automated Archival Information Retrieval System (NAAIRS) serves as a finding aid to assist users of archives to identify and locate archival material that is relevant to their requirements. NAAIRS contains only information about archival material and not the actual texts of documents. Having identified relevant material, a user would usually arrange to visit the repository concerned to consult the documents, or request further information or copies where such services are available.
The Jewish Board of Deputies Archive and Isie Maisels Library at the Beyachad in Raedene Johannesburg has substantial collections relating to the Jewish past in South Africa. For additional information, contact their archivist at archives@beyachad.co.za