The TRC and the new South Africa
With a new government in place Cape Town Jewry had entered into a new South Africa in which privileges did not depend on the amount of melanin manufactured by melanocytes. A Truth and Reconciliation Commission (TRC) began sitting in April 1996 to give perpetrators of violence the opportunity to give testimony and request amnesty from prosecution.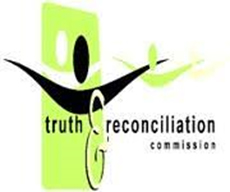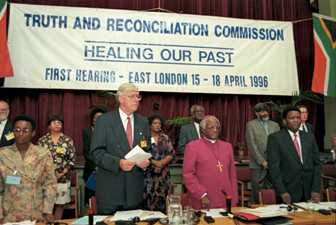 Rabbi Steinhorn marked the event with a special  interfaith religious celebration attended by representatives of the Christian, Muslim, Jewish, African Traditional, Buddhist, and Hindu faiths. "We are all the children not of a contract, but of a covenant. The reconciliation process in South Africa marks the genesis of this covenantal process, of sharing and receiving between you and me." He told them, adding that transformation needed to take place in their homes.
Rabbi Ivan Lerner of the Claremont synagogue thought differently.[i] He published a letter in the Weekend Argus, January 20-21, 1996, attacking the TRC as being divisive and a tragic mistake and was criticised the following week by Professors Milton Shain and Jeremy Sarkin and Dr Sally Frankental who accused him of misunderstanding the purpose of, and need for, the TRC (Weekend Argus, January 13-14, 1996.) This again shows the more progressive outlook of the G&SPHC rabbi.
Chief Rabbi Harris embraced the TRC and gave a presentation on behalf of the Jewish community in East London on 18th November 1997, the second day of the TRC's special three-day hearing into the role of the church under apartheid[ii]. He pointed out that the Jewish community did not initiate apartheid and many did not agree with it. Almost everyone had a kind of awkward tension about apartheid, and most benefited in one way or another. Jews overwhelmingly and continuously voted against the governing National Party, more so than any other white group in South Africa. They also participated significantly as activists and in various protest groupings like Jews for Justice in Cape Town (in which G&SPHC's Rabbi Franklin and Dennis Davis, later a Judge, were involved).
Apartheid's effect, Chief Rabbi Harris told the Commission was to ensure that whites achieved a degree of affluence as a direct result of the fact that others were forced to live in penury. This created a profound personal and collective responsibility for every apartheid-reared Jew, for it raised the possibility that their present attainments might have been achieved only because of apartheid's role in denying to others what they now enjoyed. He thought that the "haves" sharing with the "have-nots" was not merely a political, economic or social certainty, it was a moral imperative.
We bear responsibility today, whatever role we played in the past, however many letters we wrote to the newspapers, however many bursaries we sponsored, however civil we were to our workers or servants, because it is possible, indeed probable, that our personal circumstances are products of apartheid. And if we are responsible for this country's past, we are of course responsible for its future. In that the Jewish community benefited from apartheid, apology must be given to this commission.
He added that:
One of the great evils of apartheid was that it desensitised decent people to the suffering of millions. Other reasons could be cowardice and plain fear. Apartheid was a very repressive regime. The Jewish community in South Africa, confesses a collective failure to protest against apartheid. We are trying to galvanise our Jewish community in order that we can actually help. It is our responsibility to be of help.
---
[i] South Africa - AJC Archives www.ajcarchives.org › ajc_data › files › 1997_12_southafrica
[ii]Harris, Chief Rabbi Cyril, Jewish Community, Represented by Rabbi Cyril Harris. Testimony before the Truth and Reconciliation Commission, East London, 18th November 1999. www.religion.uct.ac.za/sites/default/files/image_tool/.../Jewish_Community.pdf