ICA Live Art Fellowship Workshop & Presentation - Zanele Muholi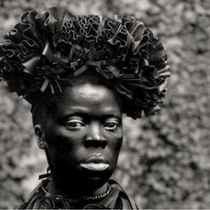 ZANELE MUHOLI - Babhekeni / Look at Them
Freedom? Loss… Marking the beginning of 16 Days of Activism (for No Violence Against Women and Children), Zanele Muholi presents Babhekeni / Look at them, a collaborative performance event and work of public commemoration.
Directing the visual activism for which Muholi is known into a more immersive and perfomative context, Babhekeni / Look at them will take the form a procession and silent vigil, to be held in the Company's Garden, Cape Town. Inviting participation from the public, the project encourages forms of personal and collective reflection on the social impact and loss brought about by gender-based violence, hate crimes and the systemic outworking of homophobia and rape culture in South Africa.
Speaking to these issues, and their bearing on ideas of democracy, transformation and freedom, interpretive performances will be presented by five collaborating artists – two poets, a tenor saxophonist, an opera singer and a dancer (details below). In addition to this, a slideshow of sixty self-portraits from Muholi's current project, Somnyama Ngonyama will be projected on the front façade of the South African National Gallery. Subverting taxonomies of African identity scripted within colonial and apartheid discourses, and responding to her reception within an ostensibly inclusive, post-race society, the self-assured and performative images of Somnyama Ngonyama (which translates as 'Hail, the Dark Lioness') dialogue, as M Neelika Jayawardane observes, "with her inner experiences of being black, lesbian, and a person who has experienced violence because of those parts of her identity".
Zanele Muholi is an Internationally renowned artist and self-proclaimed visual activist. In 2016, Muholi was awarded an ICA Live Art Fellowship.
COLLABORATING ARTISTS:
Sindiwe Magona (poet)
Anelisa Stuurman (poet/musician)
Sebenzile Nkosi (tenor saxophonist)
Phumla Qampi (opera singer)
Thobeka Bhengu (art/human rights activist & choreographer)
WORKSHOP
Preceding the public event that is Babhekeni / Look at them, Muholi and a selection of her collaborators will facilitate an open and interactive workshop, to be held at Hiddingh Hall between 16:00 – 17:30 (RSVP is essential).
Babhekeni / Look at Them
FRIDAY 25TH NOVEMBER
20:00 FOR 20:30
 The procession begins at the bottom of Government Lane
(cnr, Government Lane and Wale Street)
Workshop
FRIDAY 25TH NOVEMBER
16:00 - 17:30
Hiddingh Hall, UCT Hiddingh Campus*
To participate in the workshop, please RSVP
*ACCESS: The inaccessibility of Hiddingh Hall to wheelchair users is an issue of priority for ICA, and one which we are currently addressing. Anyone requiring assistance in accessing the space, contact Sam Saevitzon